Manchin Appears to Have Secured Pro-Energy Side-Deal with White House
8/2/2022
(P&GJ) – In addition to securing a commitment from President Joe Biden and the Democratic leadership that might enable the Mountain Valley Pipeline to be finished, Sen. Joe Machin apparently gained a side-deal that could have a far-reaching positive effect on energy projects.
As part of deal to gain Manchin's vote on  historic climate legislation, Democratic leaders have agreed to provisions that will make it more difficult to stall pipeline and other energy projects under the National Environmental Policy Act.
One caveat, according to the New York Times, is that a two-year time limit will be imposed on future challenges to projects. Additionally, the administration will be required to name 25 "priority projects" on federal lands, which must include fossil fuels and nuclear energy.
The commitment to the West Virginia senator from fellow Democrats will be used to pass legislation allowing the state's 303-mile pipeline to be completed and "streamline the permitting process for all energy infrastructure," according to sources in Manchin's office.
Legislation supporting at least portions of the agreement is expected be voted on by the end of the fiscal year, which is Sept. 30, according to the statement quoted in the news outlet.
Possibly more significant, the proposed agreement would also move any future legal challenges to the Mountain Valley Pipeline to by the U.S. Court of Appeals for the District of Columbia, rather than the 4th U.S. Circuit Court of Appeals, which has repeatedly struck down permits for the pipeline.
Last week, Manchin, who has often been a roadblock to Biden's policy goals, reached a deal with fellow Democrat Sen. Chuck Schumer on a bill to increase corporate taxes, reduce the national debt, invest in energy technologies and lower the cost of prescription drugs.
The Mountain Valley Pipeline has faced numerous legal setbacks since construction began in 2018 and is years behind schedule.
In May, Equitrans Midstream, the lead partner building the project, said it expected the pipe to enter service in the second half of 2023 at a cost of around $6.6 billion.
Related News
Related News
Sign up to Receive Our Newsletter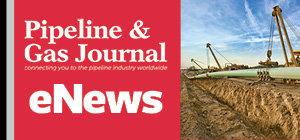 Pipeline Project Spotlight
Owner:
East African Crude Oil Pipeline Company
Project:
East African Crude Oil Pipeline (EACOP)
Type:
TotalEnergies in discussions with a Chinese company after Russian supplier Chelpipe was hit by sanctions.
Length:
902 miles (1,443 km)
Capacity:
200,000 b/d
Start:
2022
Completion:
2025