Baghdad, Erbil Sign Deal to Restart Northern Oil Exports
4/4/2023
(Reuters) — Iraq's federal government and the Kurdistan Regional Government (KRG) signed a deal to restart northern oil exports through Turkey on Tuesday, official sources told Reuters.
A formal request has been sent to Turkey to restart oil exports through an Iraq-Turkey pipeline and "in the next few hours pumping will resume," a Baghdad government official said.
Turkey stopped pumping about 450,000 b/d of Iraqi crude through a pipeline from the Fish-Khabur border area to its Ceyhan port on March 25 after Iraq won an arbitration case.
Although the flows account for about 0.5% of global oil supply, the stoppage forced oil firms in the region to halt output or move production into rapidly-filling storage tanks, and helped boost oil prices last week to nearly $80/bbl.
KRG Prime Minister Masrour Barzani travelled to Baghdad earlier on Tuesday to finalize the agreement with Iraqi Prime Minister Mohammed al-Sudani.
A source familiar with oil exports from the region, who spoke on condition of anonymity, said that pipeline operators have yet to receive an indication to restart flows.
Baghdad had said Turkey violated a joint agreement by allowing the KRG to export oil to Ceyhan without its consent.
Under the deal, Iraq's state-owned marketing company SOMO will have the authority to market and export KRG oil and the revenues will be deposited in an account at the Iraqi Central Bank under the control of the KRG, two Iraqi officials said.
Both spoke on condition of anonymity because they were not authorised to speak to the media.
Baghdad will have access to audit the account.
Barzani is also set to hold talks with Sudani over a separate oil and gas dispute that has dragged on for nearly two decades.
"Everyone must abide by this agreement and implement it," al-Sudani said in a joint news briefing with Barzani.
He said the deal was temporary until the budget law passes in parliament, which he said "will cover all obligations and solve all problems."
Related News
Related News
Sign up to Receive Our Newsletter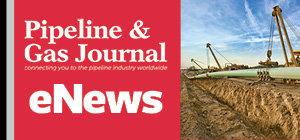 Pipeline Project Spotlight
Owner:
East African Crude Oil Pipeline Company
Project:
East African Crude Oil Pipeline (EACOP)
Type:
TotalEnergies in discussions with a Chinese company after Russian supplier Chelpipe was hit by sanctions.
Length:
902 miles (1,443 km)
Capacity:
200,000 b/d
Start:
2022
Completion:
2025