Kinder Morgan Launches Expansion Open Season for SFPP Pipeline System
4/12/2023
(P&GJ) — Kinder Morgan Inc. has announced the launch of a binding open season to solicit commitments to support a proposed expansion of a portion of its SFPP L.P. (SFPP) pipeline system from El Paso, Texas, to Tucson, Arizona.
The expansion is estimated to provide approximately 10,000-12,000 barrels per day (bbl/d) on a gasoline equivalent basis of incremental capacity available for the transportation of gasoline, jet and diesel products from El Paso, Texas to Tucson, Arizona.
However, the total amount of the expansion capacity available is scalable and will be dependent on the overall level of interest SFPP receives during the open season. The open season process provides potential shippers the opportunity to obtain firm capacity on the expansion by making ship-or-pay volume commitments to SFPP during the binding open season time frame.
Additional documents and details related to the open season will be made available upon execution of a confidentiality agreement with SFPP.
Those interested in obtaining more detailed information about this open season and a copy of the form confidentiality agreement should contact Doug Meyers, director of business development in Kinder Morgan's Products Pipelines group, at Doug_Meyers@kindermorgan.com or (713) 420-2856.
The open season began at 8 a.m. Central Time today, April 12, 2023, and it is scheduled to end at 5 p.m. Central Time on May 26, 2023.
Related News
Related News
Sign up to Receive Our Newsletter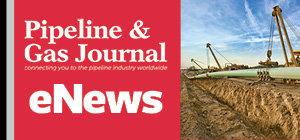 Pipeline Project Spotlight
Owner:
East African Crude Oil Pipeline Company
Project:
East African Crude Oil Pipeline (EACOP)
Type:
TotalEnergies in discussions with a Chinese company after Russian supplier Chelpipe was hit by sanctions.
Length:
902 miles (1,443 km)
Capacity:
200,000 b/d
Start:
2022
Completion:
2025