Seven US States Submit Joint Proposal for New Clean Hydrogen Hub in Northeast Region
4/11/2023
(P&GJ) — New York, New Jersey, Maine, Rhode Island, Connecticut, Vermont and the Commonwealth of Massachusetts have submitted a group proposal for a Northeast Regional Clean Hydrogen Hub to the U.S. Department of Energy.
The group's submission is for a bid to compete for a $1.25 billion share of the $8 billion in federal hydrogen hub funding available as part of the Infrastructure Investment and Jobs Act.
The NE Hub partnership initially included the states of New York, Connecticut, New Jersey, the Commonwealth of Massachusetts, and 40 partners active in the development and deployment of clean hydrogen as an important component of the broader energy transition.
The partnership expanded in August 2022 to include the states of Rhode Island, Maine, and over 25 additional hydrogen ecosystem partners. In February 2023, the partnership grew to more than 100 partners, with Vermont also joining.
Since the launch of the Northeast Regional Clean Hydrogen Hub (NE Hub) in March 2022, six states and more than 100 partners signed a memorandum of understanding (MOU) joining the New York State Energy Research and Development Authority (NYSERDA) to collaborate in developing the proposal submitted.
"As a leader on climate action and founding partner of the Northeast Regional Clean Hydrogen Hub, New York State is leading the way in establishing a connected and sustainable hydrogen industry that will bring jobs and economic development to the region," New York Governor Kathy Hochul said. "We are ready to work with our state partners and local communities to capitalize on federal funding and ensure this program benefits the entire region while becoming part of a connected hydrogen hub network nationwide and reaching our ambitious climate goals."
Together with the federal portion, the proposal represents a $3.62 billion investment and includes over one dozen projects across seven Northeast states that advance clean electrolytic hydrogen production, consumption, and infrastructure projects, for hard to decarbonize sectors, including transportation and heavy industry, among others.
The proposal will be reviewed by the U.S. Department of Energy with awarded proposals designated one of the nation's regional clean hydrogen hubs. Awards are anticipated to be announced in fall 2023.
This coordinated, multi-state strategy is designed to create an ecosystem that connects hydrogen producers and users and their associated safety experts, technology original equipment manufacturers (OEMs), and the research and development community, workforce organizations, and labor representatives, for the collective purpose of advancing clean hydrogen projects.
In accordance with these guiding principles, the NE Hub projects include clean electrolytic hydrogen production for use in transportation, high-temp industrial thermal, and communal utilities for heat which are each representative of hard-to-decarbonize sectors. The projects included in the proposal are proposed to be sited to form a regional hub of integrated projects across states collectively producing and utilizing clean hydrogen, advancing a vision that enables a long-term sustainable clean hydrogen industry in the northeast region, and establishing strategic connections to other clean hydrogen hubs.
If selected for an award by the Department of Energy, the projects within the NE Hub will complete a rigorous series of four phases in development over the course of 10-12 years, with each subsequent phase requiring completion of milestones before projects move forward in the process, including technical data and analysis, community engagement and impacts, engineering, permitting and safety, business development and management, procurement, and construction and operations.
If selected, management and oversight of this endeavor across seven states will be accomplished through close coordination and collaboration between the U.S. Department of Energy, NYSERDA as the prime awardee, the state partners, and sub-recipient project partners who will be the organizations implementing work in communities across the region.
While the U.S. Department of Energy completes the application review process, the full list of projects, locations, and organizations included within the NE Hub proposal will not be made public.
Related News
Related News
Sign up to Receive Our Newsletter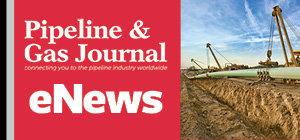 Pipeline Project Spotlight
Owner:
East African Crude Oil Pipeline Company
Project:
East African Crude Oil Pipeline (EACOP)
Type:
TotalEnergies in discussions with a Chinese company after Russian supplier Chelpipe was hit by sanctions.
Length:
902 miles (1,443 km)
Capacity:
200,000 b/d
Start:
2022
Completion:
2025