India's Petronet Seeks More LNG Under Long-Term Qatar Deal
2/7/2023
(Reuters) — Petronet LNG, India's top gas importer, will seek up to 1 million tonnes per annum (MTPA) in additional LNG supplies when it renews its long-term deal with Qatar, the company's CEO said on Tuesday.
"We are seeking an additional 0.75 to 1 MTPA on top of existing 8.5 MTPA contact," CEO A.K. Singh told reporters on the sidelines of the Indian Energy Week conference.
Petronet, which is currently purchasing LNG from Qatar at $16 per million British thermal unit, has until the end of this year to renew its deal.
India's LNG imports fell for the second straight year in 2022, mainly due to fewer imports by utilities as the country ramped up coal-fired power production at the expense of natural gas.
The energy-hungry nation expects deeper penetration of city gas distribution to drive LNG demand in the coming years.
Petronet, which is currently purchasing 1.42 MTPA of LNG from Exxon Mobil Corp.'s Gorgon project in Australia, will receive an additional 0.6 MTPA under the deal from 2025-26, Singh said.
In addition to the 2.02 MTPA it will import from Gorgon by 2025-26, Petronet will seek another 0.6 MTPA from Gorgon, he said, adding that a timeline for the shipments had not been finalized yet.
Petronet was looking to link LNG purchased under long-term contracts with global gas indices, Singh said, without elaborating further.
The gas importer is looking to expand the capacity of its LNG terminals by more than 53% in the coming years, including by opening its first terminal on India's east coast.
The state-run company currently owns a 17.5 MTPA LNG terminal in Dahej in the western state of Gujarat and a 5 MTPA capacity plant in Kochi in southern India. It is building its third terminal in Gopalpur in eastern the state of Odisha.
"We are looking for 12 million tonnes of additional LNG (capacity) - 3 for Kochi, 4 for Gopalpur and 5 MTPA for Dahej," Singh said.
The Kochi terminal is currently running at a lower capacity as pipeline connectivity was not fully ready, he said.
Related News
Related News
Sign up to Receive Our Newsletter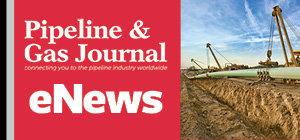 Pipeline Project Spotlight
Owner:
East African Crude Oil Pipeline Company
Project:
East African Crude Oil Pipeline (EACOP)
Type:
TotalEnergies in discussions with a Chinese company after Russian supplier Chelpipe was hit by sanctions.
Length:
902 miles (1,443 km)
Capacity:
200,000 b/d
Start:
2022
Completion:
2025