Canada's Trudeau Urges Alberta to Contribute to Carbon-Capture Incentives
1/9/2023
(Reuters) — Canadian Prime Minister Justin Trudeau on Friday urged the government of the main oil-producing province of Alberta to use its budget surplus to help bolster tax credits meant to help scale up carbon capture and storage and reduce emissions.
After the United States passed the Inflation Reduction Act last year, which included massive tax credits to develop carbon capture, utilization and storage (CCUS) there, the Canadian oil and gas industry has been seeking an increase to what was promised in the April federal budget.
"We've seen for a while Alberta hesitating around investing in anything related to climate change. But CCUS is one of those tangible things," Trudeau told Reuters in an interview.
"I think there's a role for provinces with surpluses, with the capacity to be investing in their future and their workers future," he said in his first media interview of 2023.
The comments follow a Reuters exclusive story from October that cited sources saying the federal government was at odds with Alberta's government over who should pay to bolster tax credits for carbon capture.
Canada is home to the world's third-largest oil reserves and is the fifth-biggest producer of natural gas, and the industry says it needs more government rebates to help scale up the technology.
Carbon capture and storage is emerging as a key plank in the fight against carbon pollution and climate change around the world. The Canadian oil and gas industry wants a level playing field as Ottawa targets net zero emissions by 2050, the same goal set by U.S. President Joe Biden.
Alberta's new premier, Danielle Smith, has passed a law allowing the province to refuse to enforce federal laws it deems unconstitutional, and she has threatened to use it on legislation seen as a potential threat to the province's energy industry.
Canada has said it will introduce legislation this year that will help workers in the oil and gas sector get training and other support in order to move into green energy jobs. Smith on Thursday said she opposes the legislation because it will "shut down our energy industry".
"One of the challenges is there is a political class in Alberta that has decided that anything to do with climate change is going to be bad for them or for Alberta," Trudeau said.
"It's not about fighting a rearguard action to bring us back to the 1980s it's about making sure that the expertise that Albertans and so many Canadians have in resources in the energy sector continue to be relevant and needed."
Alberta has already invested or committed more than C$1.8 billion ($1.34 billion) into CCUS and approved 25 proposals for carbon storage hubs in the last year, Smith's office said in an email.
"We know that there is no path to net zero in Canada, Alberta, or anywhere globally without CCUS, and we are looking to CCUS to assist in the de-carbonizing of all sectors of our economy," the premier's office said.
In the interview, Trudeau also took aim at his main rival, Conservative Party leader Pierre Poilievre, for casting Canada as "broken".
Trudeau said Poilievre is "not proposing solutions," but is instead "trying to harvest a level of political anger that leads nowhere, as unfortunately we saw in the United States over the past years."
Poilievre's office had no immediate response to the comments. Polls show that the Conservatives took a slight lead over Trudeau's Liberals in national polling after Poilievre took over last year.
($1 = 1.3442 Canadian dollars)
Related News
Related News
Sign up to Receive Our Newsletter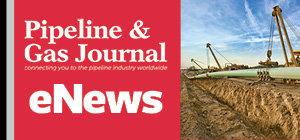 Pipeline Project Spotlight
Owner:
East African Crude Oil Pipeline Company
Project:
East African Crude Oil Pipeline (EACOP)
Type:
TotalEnergies in discussions with a Chinese company after Russian supplier Chelpipe was hit by sanctions.
Length:
902 miles (1,443 km)
Capacity:
200,000 b/d
Start:
2022
Completion:
2025