DNV Grants Safety Certification to Project Greensand's CO2 Storage in the North Sea
6/14/2023
(P&GJ) — Project Greensand has received official safety approval from DNV. The project is the first in the world to demonstrate that CO2 can be transported across national borders and stored offshore to mitigate climate change.
In March, the underground storage of CO2 officially opened in Denmark and the project was issued a statement of conformity by DNV.
The presentation of this framed safety verification follows years of involvement by DNV of the entire value chain's concept, design, components, underground sites and facilities. DNV has also analyzed all safety aspects of Project Greensand's pilot phase. The document is clear evidence that the safety of Project Greensand complies with the highest Danish and international standards.
"Our safety verification of Project Greensand's entire pilot phase clearly shows that the project is fit for purpose, safe and compliant with all relevant Danish and international regulations and the highest standards," Mick Cramer Jakobsen, regional head of customer relations for DNV, said. "Naturally, it will be advantageous to have the safety verification already in place before the next phase of Project Greensand commences."
The safety verification covers everything from the fabrication by the individual subcontractors to the actual offshore installation.
"We are delighted that all safety aspects of Project Greensand have been approved by the best in the field," says Mads Gade, Head of Country for INEOS Denmark. "We are convinced that safety will be a vital competitive parameter in the future CCS market. DNV's thorough work and verification guarantee that our system can ensure that the stored CO2 remains underground, and that the safety of our employees remains paramount in the North Sea."
With the safety of the pilot phase verified, Project Greensand is now able to continue working along the same lines to fulfil its ambition to store up to 1.5 million tonnes of CO2 per year in 2025/2026, and potentially up to 8 million tonnes of CO2 per year by 2030. Project Greensand complies with the Offshore Safety Directive, which sets the highest safety standards in connection with the storage of CO2 in the North Sea, just as it does with oil and gas activities.
DNV's work in connection with Project Greensand has involved extensive analyses of plans, the suitability of the underground sites, and the practicability of the storage and designs, along with DNV's physical presence during a stress test of the individual sub-elements and approval of the connection and installation of offshore systems throughout the value chain and across national borders.
Related News
Related News
Sign up to Receive Our Newsletter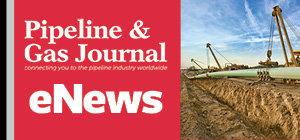 Pipeline Project Spotlight
Owner:
East African Crude Oil Pipeline Company
Project:
East African Crude Oil Pipeline (EACOP)
Type:
TotalEnergies in discussions with a Chinese company after Russian supplier Chelpipe was hit by sanctions.
Length:
902 miles (1,443 km)
Capacity:
200,000 b/d
Start:
2022
Completion:
2025