Russia's Novatek Seeks Gas Export Rights for Future LNG Plant
6/20/2023
MOSCOW, June 20 (Reuters) - The head of Russia's largest liquefied natural (LNG) gas producer, Novatek, said the company is pushing for changes to the gas export law so that its future Murmansk LNG plant will be able to sell LNG abroad, TASS news agency reported on Tuesday.
Novatek announced plans earlier this month to build the Murmansk LNG plant, which will have an annual capacity of 20.4 million tonnes per year. The first line at the plant could start operations in 2027.
The plant will help Russia reach its goal of gaining a 20% share of the global LNG market by 2035 and expanding its annual LNG output to 120 million-140 million tonnes from around 32.5 million tonnes now.
While Novatek's current operational plant, Yamal LNG, is one of a limited number of entities that have the right to export gas, Murmansk LNG does not.
"The export law needs to be amended so that Murmansk LNG can get the right to export," Leonid Mikhelson was quoted as saying, adding that the company has set up a working group in parliament to address the issue.
Mikhelson said Murmansk LNG would use Novatek's own technology, called Arctic Mix, to produce the frozen gas.
He also said Yamal LNG would produce less than 20 million tonnes of LNG this year, down from 21 million tonnes in 2022, as the second line of the plant is under maintenance.
The third line will stop for maintenance for three weeks in August, he said.
The Novatek head also expected core profit to fall by around a quarter this year, while income was seen declining by 30% due to lower LNG prices.
The company sees natural gas production rising by up to 2% this year from last year's 82 billion cubic meters, while oil and gas condensate output may also increase by 2%, Mikhelson said.
Related News
Related News
Sign up to Receive Our Newsletter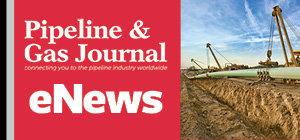 Pipeline Project Spotlight
Owner:
East African Crude Oil Pipeline Company
Project:
East African Crude Oil Pipeline (EACOP)
Type:
TotalEnergies in discussions with a Chinese company after Russian supplier Chelpipe was hit by sanctions.
Length:
902 miles (1,443 km)
Capacity:
200,000 b/d
Start:
2022
Completion:
2025