CERAWeek: Keystone Pipeline Oil Flows Won't Change After US Order to Cut Pressure, CEO Says
3/9/2023
(Reuters) — Oil flows on TC Energy's Keystone pipeline will not change after the U.S. pipeline regulator said it would require the company to reduce pressure following a 13,000-barrel oil spill in Kansas in December, CEO François Poirier told Reuters on Thursday.
Keystone has already been operating within the requirements of the new order from the Pipeline and Hazardous Materials Safety Administration (PHMSA), Poirier said in an interview. The Canadian pipeline operator completed a controlled restart of the 622,000-barrel-per-day (bpd) pipeline to Cushing, Oklahoma, on Dec. 29 last year, returning it to service after a 21-day outage following the biggest U.S oil spill in nine years.
RELATED: US Regulator Orders Lower Pressure on Keystone Pipeline System After Spill
Before the order, "we had the ability to meet the entirety of our contractual commitments of 594,000 bpd and so obviously that remains the same," Poirier told Reuters on the sidelines of the CERAWeek energy conference in Houston.
The PHMSA said on Tuesday it would require TC Energy to reduce operating pressure on more than 1,000 additional miles (1,609 kms) of Keystone.
Though an analysis has not been completed, Poirier said the company recently has indicated in disclosures that the spill was caused by issues around the girth weld on the pipeline combined with stress on the line.
Poirier said the Canadian company has not changed its estimate of $480 million in costs related to the incident.
Permits and Renewables
TC Energy has a $34 billion backlog of projects for the next few years, Poirier said, adding most of those projects are natural gas.
The company is not concerned that permitting challenges will impede those projects, he added. Challenges of getting permits for energy infrastructure have been a big theme for oil and gas executives at the conference.
"In 2022, we put $6 billion of infrastructure into service," Poirier said. "In 2023, it's nearly the same amount, so that is the best proof that you can actually sanction and build infrastructure in North America."
The permitting process to develop so-called greenfield projects, or projects on undeveloped land, typically takes an additional year than projects on already developed land, Poirier said.
TC Energy has also had issues with labor availability. Canada's construction labor market typically is between 8,000 to 10,000 workers, but right now there are almost 20,000 workers in Canada to help build out various energy projects, Poirier said.
"That has resulted in significant inflation, as well as lower productivity because you're bringing more inexperienced workers into the market," he said.
TC Energy is involved with a push from Canada's main oil-producing province Alberta to develop the country's first carbon storage hubs. A TC Energy joint-venture project with Pembina Pipeline Corp PPL.TO was one of six proposals selected by Alberta to move forward in the development.
Poirier estimates TC Energy will start burying carbon dioxide in Alberta in the second half of the decade, with aims to put infrastructure into service around 2027 or 2028, Poirier told Reuters.
Previously, TC Energy announced plans to lower its emissions by switching to renewable energy to run its huge network of U.S. and Canadian oil and gas pipelines.
Poirier said the company was on course to deliver on its target to divest C$5 billion of assets by the end of the year.
Poirier added that the company saw plenty of opportunity for growth both in fossil fuels and in new energy projects.
"Our challenge is what not to do. We have to learn how to evolve our portfolio over the course of the next decade," he said.
Related News
Related News
Sign up to Receive Our Newsletter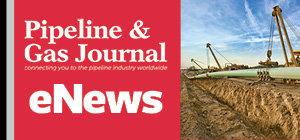 Pipeline Project Spotlight
Owner:
East African Crude Oil Pipeline Company
Project:
East African Crude Oil Pipeline (EACOP)
Type:
TotalEnergies in discussions with a Chinese company after Russian supplier Chelpipe was hit by sanctions.
Length:
902 miles (1,443 km)
Capacity:
200,000 b/d
Start:
2022
Completion:
2025