Spain Says It Will Not Plug French Energy Gap Left By 'Pink Hydrogen'
5/18/2023
(Reuters) — France should first cover its domestic energy needs before using its nuclear fleet to produce hydrogen to export through a planned pipeline linked to Spain, Spanish Energy Minister Teresa Ribera told Reuters.
France and Spain, which are both investing in hydrogen as a means to drive Europe's transition to a low carbon economy, have clashed over whether a multibillion-euro hydrogen pipeline from the Iberian Peninsula to France and on to Central Europe can carry the gas if it is produced using nuclear power.
France backs nuclear as a source of low-carbon electricity, but Spain favors wind and solar as fully renewable energy sources.
When asked if the planned hydrogen pipeline would transport hydrogen produced using nuclear energy, Ribera told Reuters Madrid would not be willing to supplement France's domestic power needs if the use of nuclear generation to produce hydrogen left the country short.
"What we are not ready to do is to substitute the demand of domestic electricity because they are using their plants to produce hydrogen. That would be crazy," she said in an interview.
Ribera also said hydrogen created from nuclear power could not be regarded as renewable.
"What we do not accept is the pink hydrogen being considered green," she said.
Energy has long been a divisive subject in the 27-member European Union as countries have relied on different energy sources.
Germany's particularly heavy dependence on Russian gas was exposed by the Ukraine war last year and EU countries are racing to make up the shortfall following a drop in Russian gas exports to the bloc.
As the quest to speed up the transition to sustainable energy sources gained momentum, neighboring France and Spain last year reached an agreement over a hydrogen pipeline between Barcelona and Marseille after years of abortive discussions.
France typically has relied on nuclear energy for more than two-thirds of its power, but it was forced to increase energy imports because its ageing nuclear plants last year needed exceptional amounts of maintenance.
In 2022, Spain exported 9 Terawatt/hours (TWh) of electricity to France, according to data from Spanish electricity grid operator Red Electrica. It was the first time since 2010 that it was a net exporter of energy to its northern neighbor.
"We were forced to export at the maximum of our capacity, producing electricity beyond our renewable energy capacities, so using more gas than we would have liked," Ribera said.
France's energy ministry did not immediately respond to a request for comment.
Related News
Related News
Sign up to Receive Our Newsletter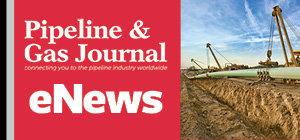 Pipeline Project Spotlight
Owner:
East African Crude Oil Pipeline Company
Project:
East African Crude Oil Pipeline (EACOP)
Type:
TotalEnergies in discussions with a Chinese company after Russian supplier Chelpipe was hit by sanctions.
Length:
902 miles (1,443 km)
Capacity:
200,000 b/d
Start:
2022
Completion:
2025