Climeworks Explores Large-Scale Carbon Capture Project in Kenya
9/25/2023
(Reuters) — Climeworks is exploring the development of a large-scale direct air capture (DAC) project in Kenya to remove and store carbon dioxide from the atmosphere with Great Carbon Valley, the first of its kind in East Africa, the two companies said on Thursday.
Many scientists believe extracting billions of tons of carbon dioxide (CO2) from the atmosphere annually, by using nature or technology, is the only way to meet goals set under the U.N. Paris climate agreement to curb climate change.
The companies said they will explore the feasibility of building a project capable of removing up to 1 million tons of CO2 which could begin operating as early as 2028.
Climeworks is one of the most established developers of the early-stage technology, owning the world's largest operational facility, the Orca plant in Iceland which can remove 4,000 tons of CO2 a year and store it deep underground.
The companies said the region's geology and potential for renewable energy makes it an ideal location for a DAC plant.
"East Africa is home to abundant untapped renewable energy potential including world-class solar, wind and geothermal energy resources, and basalt formations necessary to catalyze a vibrant carbon removals industry," said Bilha Ndirangu, CEO of Great Carbon Valley.
Projects that suck carbon dioxide out of the air can generate removal credits that can then be bought and used by companies to help offset emissions they are unable to cut from their business.
The companies did not specify how the project would be funded but developers of DAC projects have traditionally made advanced sales of removal credits, which currently cost in the mid-to-high-triple digits in dollars per ton.
Related News
Related News
Sign up to Receive Our Newsletter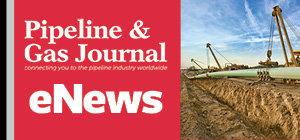 Pipeline Project Spotlight
Owner:
East African Crude Oil Pipeline Company
Project:
East African Crude Oil Pipeline (EACOP)
Type:
TotalEnergies in discussions with a Chinese company after Russian supplier Chelpipe was hit by sanctions.
Length:
902 miles (1,443 km)
Capacity:
200,000 b/d
Start:
2022
Completion:
2025