US Backs Chevron's Subsea Pipeline Plan for Aphrodite Gas Field Amid Cyprus Dispute
9/1/2023
(Reuters) — Washington has weighed into a dispute between Cyprus and international companies led by Chevron over how to develop a giant offshore gas field, backing the U.S. company's plan to link it to neighboring Egypt, two industry sources and a U.S. source said on Friday.
The Chevron-led consortium proposed connecting the Aphrodite gas field via a subsea pipeline and existing infrastructure to Egypt, where the gas can be sold in the domestic market or liquefied and shipped to Europe, which has largely been cut off from Russian supplies.
Cypriot Energy Minister George Papanastasiou confirmed that the government had rejected the latest plan, which omitted a previous proposal to build a floating gas processing plant at the field which lies 160 kilometers (100 miles) southeast of Cyprus.
"The modification has been rejected. The expectation of the Republic of Cyprus is (that) the consortium honors what was mutually agreed by the parties in 2019," Papanastasiou told Reuters.
The partners have engaged in a new round of talks with the Cypriot government, Israel's NewMed, which is a partner in the Aphrodite field, said earlier this week.
The United States is backing Chevron's plans, which it believes will help to get gas to the market faster and with a lower carbon footprint as it does not involve building large infrastructure, according to a U.S. source.
"Connecting (Aphrodite) to Egypt will help them with peak domestic consumption in the summer, add stability and reduce tensions in the region, and allow exports for Europe," the U.S. source said.
The Biden administration is "making the distinction between expensive and unnecessary infrastructure projects" and less work-intensive interconnections that are necessary as economies transition to cleaner forms of energy, the source said.
Aphrodite, discovered more than a decade ago, holds an estimated 124 billion cubic meters of gas. Chevron is a partner in the field with NewMed and Shell.
Its development would give a vital boost to the Eastern Mediterranean gas basin which has attracted huge investment in recent years, particularly in the wake of Russia's invasion of Ukraine as Europe sought to replace Russian fossil fuel.
According to two industry sources, Nicosia objected to Chevron's plans to drill three production wells rather than five and avoid the construction of a floating production unit above the field.
A Chevron spokesperson said the consortium was working to progress the Aphrodite project.
"We have submitted a modified development plan to the Cypriot Government, which we hope will lead to the development of the Aphrodite field and delivery of gas to Egyptian and global markets via existing LNG (liquefied natural gas) plants on the north coast of Egypt."
"We believe it is important that Aphrodite is expeditiously developed for the benefit of Cyprus, the Eastern Mediterranean region and European and other international markets," Chevron said.  
Related News
Related News
Sign up to Receive Our Newsletter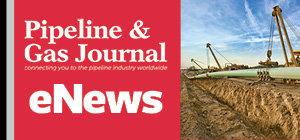 Pipeline Project Spotlight
Owner:
East African Crude Oil Pipeline Company
Project:
East African Crude Oil Pipeline (EACOP)
Type:
TotalEnergies in discussions with a Chinese company after Russian supplier Chelpipe was hit by sanctions.
Length:
902 miles (1,443 km)
Capacity:
200,000 b/d
Start:
2022
Completion:
2025