March 2013, Vol. 240, No. 3
Business Meetings & Events
Editor's Notebook
Editor's Notebook: The Human Touch
In a way, Mitt Romney was right. A corporation is people. Let's take a pipe coating mill. Once that lovely pipe is buried, it is forgotten except to those who monitor it for wear. It's the people who make that product you will remember. People like Mike Reeder.
Features
From the Burner Tip
Protesters Give Many Reasons to Stop Canadian Keystone XL Coming South
One issue still a hot topic for the Obama administration is whether to approve the second and final phase of the Keystone XL Pipeline. This will include another pipeline coming from Canada into the U.S. bringing another million barrels per day of tar sand crude oil also known as "diluted bitumen" to Gulf Coast refineries.
Government
PHMSA Pressured to Turn on Pipeline Valves Rulemaking
A Columbia Gas & Transmission Corp. pipeline leak in West Virginia in December has reignited the debate over installation of automatic shutoff valves (ASVs) and remote control valves (RCVs) as a means of quickly limiting the potentially disastrous effects of a pipeline explosion and subsequent fire. The fire in Sissonville destroyed three homes and closed a section of a major highway for 14 hours.
In The News
Projects
Q&A
Energy Managers Share Ways To Control Costs
There is no free energy, even for energy companies. In recent years, energy costs for pipeline companies have become an issue of increasing importance to managers and executives alike.
TechNotes
Demonstration Validates Field Joint Coating Process
Dow Oil, Gas & Mining and Pipeline Induction Heat Ltd (PIH) (part of the CRC Evans group of companies) report a simple and robust field joint coating process for DOW NEPTUNE™ F Advanced Subsea Flow Assurance Insulation.
Sign up to Receive Our Newsletter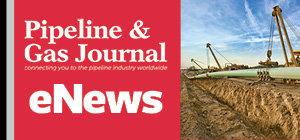 Pipeline Project Spotlight
Owner:
East African Crude Oil Pipeline Company
Project:
East African Crude Oil Pipeline (EACOP)
Type:
TotalEnergies in discussions with a Chinese company after Russian supplier Chelpipe was hit by sanctions.
Length:
902 miles (1,443 km)
Capacity:
200,000 b/d
Start:
2022
Completion:
2025