January 2014, Vol. 241 No. 1
Business Meetings & Events
January 2014 Ad Index
Advertisers from the print edition of <em>Pipeline & Gas Journal</em>, January 2014, Vol. 241 No. 1.
Editor's Notebook
Editor's Notebook: Flaring Problems
There is much I like about the oil and gas business. One I especially like is the industry's innate ability to solve some of the most pressing technological problems that any business faces, though perhaps with some foresight, this might not have been necessary. That's something I don't like.
Features
From the Burner Tip
Gas And Oil From Shale Reservoirs Setting Records But Future Unknown
Technology advances in recent years on horizontal drilling and better methods of producing hydrocarbon resources from tight formations like shale reservoirs have had a major impact on United States energy resources. The shale-driven "revolution" has made the U.S. a leading natural gas, crude oil and liquids producer worldwide.
Government
Transmission Companies Push For Easing Class Location Reach And Requirements
Gas transmission companies are trying to convince federal regulators to use integrity management guidelines to determine when pipe needs to be replaced outside high consequence areas (HCAs). The 2011 pipeline safety law requires the Pipeline and Hazardous Materials Safety Administration (PHMSA) to decide whether an expansion of the integrity management (IM) program beyond HCAs would eliminate the need for the class location system.
In The News
Projects
Q&A
Solomon Associates Adds Ziff To Consulting Roster
The energy consulting business is going great guns these days and little wonder, with the shale revolution continuing to change the way oil and natural gas are viewed and used in North America, and eventually the rest of the world.
Web Exclusive
Enhanced SCADA Alarm Management Using Machine Learning
The SCADA system is the first line of defense for protection and oversight of any pipeline. Monitoring the various alarms and alerts in a pipeline operation's SCADA system, however, can be like trying to drink from a fire hose. Thousands of alarm points throughout a system, all reporting 24/7, require a significant investment in alarm management, which has become the next area for major developments in SCADA design.
What's New
APG Gains EPA Approval for 85 More OUL Engines
American Power Group (APG) received notification from the EPA that its clean alternative fuel vehicle and engine conversion submissions have been approved for use in two outside useful life (OUL) engines: • Detroit Diesel Series 60 11.1L to 14L (2002-1987) • Volvo/Mack: D11, D12, D13, D16, E7, MP7, MP8, MP10 10.8L to 16.1L (2009-2002)
January 2014 New Products
New products from DeFelsko Corporation, Red Lion Controls, ORBIT, Blackstone Technology Group, CRC-Evans Pipeline International, Inc., Tigercat, Portadam, Xpress Natural Gas, Hess Energy Marketing, Direct Energy Business, McElroy and more.
Sign up to Receive Our Newsletter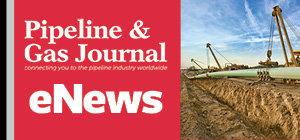 Pipeline Project Spotlight
Owner:
East African Crude Oil Pipeline Company
Project:
East African Crude Oil Pipeline (EACOP)
Type:
TotalEnergies in discussions with a Chinese company after Russian supplier Chelpipe was hit by sanctions.
Length:
902 miles (1,443 km)
Capacity:
200,000 b/d
Start:
2022
Completion:
2025