May 2014, Vol. 241, No. 5
Business Meetings & Events
DENSO Wins Large IOCL Contract For Pipeline Coating
Indian Oil Corporation Ltd (IOCL), which is upgrading its more than 11,000- km pipeline grid after 40 years of operation, has contracted for more than 2.4 million square meters of pipeline coating from DENSO GmbH Germany.
May 2014 Ad Index
Advertisers from the print edition of <em>Pipeline & Gas Journal</em>, May 2014, Vol. 241 No. 5.
TMK IPSCO Cutting Operating Hours At 3 Welded Pipe Plants
TMK-IPSCO, the American Division of global pipe manufacturer TMK, will reduce the number of operating hours used to produce welded pipe at its Blytheville, AR, Camanche, IA and Wilder, KY plants. In addition, the 8-inch welded pipe mill at Wilder will be idled. In total, the number of operating hours at TMK IPSCO's welded pipe plants will be reduced by 30%.
Editor's Notebook
Editor's Notebook: The Bovine Threat
Well, no one ever said it was going to be easy trying to persuade the public that natural gas is indeed the fuel of choice for years to come because of its low cost, reliability, abundance and environmental benefits.
Features
From the Burner Tip
Fugitive Methane Becomes Target For Climate-Changing Proponents
Methane, the major ingredient of natural gas (98% plus), is getting more heat than just from the sun's radiation! Considered a greenhouse gas (GHG) because of its ability to absorb heat and transfer it to affect the earth's climate, methane is getting federal and state government as well as civic attention.
Government
API Considers New Voluntary Recommended Practice For Pipeline Safety
An American Petroleum Institute (API) advisory committee released a draft "recommended practice" describing a safety management system (SMS) for natural gas and liquid pipelines at a meeting sponsored by the Pipeline and Hazardous Materials Safety Administration (PHMSA) in February. The API was taking comments through April 11 and will approve RP1173, in some form, later this year.
In The News
Energen Selling Natural Gas Utility To The Laclede Group
Birmingham, AL-based Energen Corporation will sell its natural gas utility business, Alabama Gas Corporation (Alagasco), to The Laclede Group, Inc. The value of the transaction is $1.6 billion, comprised of $1.28 billion cash and $320 million of debt.
NGC: Natural Gas Met Challenge Of Winter
The natural gas industry performed reliably in the face of colder than normal temperatures and numerous record-setting demand days this winter, the industry's Natural Gas Council (NGC) said. Freezing temperatures frequently covered large portions of the U.S. at once, placing exponentially greater pressure on peak-day demand for natural gas, with little recovery time between cold spells.
Projects
What's New
What's New: May 2014
New products and services from the Torre Group, Bredero Shaw, ABB, Lincoln Electric, WFS, Frick & Company, NDT Global, Prosoft, DNV GL and more.
Sign up to Receive Our Newsletter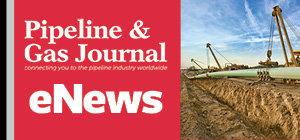 Pipeline Project Spotlight
Owner:
East African Crude Oil Pipeline Company
Project:
East African Crude Oil Pipeline (EACOP)
Type:
TotalEnergies in discussions with a Chinese company after Russian supplier Chelpipe was hit by sanctions.
Length:
902 miles (1,443 km)
Capacity:
200,000 b/d
Start:
2022
Completion:
2025