September 2017, Vol. 244, No. 9
Company & Association News
Business: Association News, Personnel Changes, Mergers & Acquisitions
Hobart Institute of Welding Technology in Troy, OH, highlighted its latest addition and renovation, including a new welding learning facility featuring four state-of-the art classrooms that seat up to 120 students and a dedicated non-destructive laboratory and classroom for hands-on liquid penetrant..
Editor's Notebook
Opposition to Pipeline Construction Projects Nothing New
Isn't it interesting that no matter how much changes in the our industry, certain things are designed to never change. One of the first major conferences I covered was the 13th Annual Arthur Andersen Oil & Gas Symposium held in Houston in December 1992. Arthur Andersen held one of the most influent..
Features
Government
Government
Appeals Court Decision May Trump House Pipeline Bill The House passed two pipeline bills – which could run into trouble in the Senate for lack of Democratic support – amid continuing industry unhappiness with federal and state regulatory agency foot-dragging on permit approvals. The U.S. Court of ..
In The News
In the News
Did BP Just Unlock a New Major Shale Gas Basin? BP made a potentially groundbreaking discovery in New Mexico, which could open up a new area for shale gas development. The oil major was drilling in a little-known area in northern New Mexico, in a place called the Mancos Shale. BP reported huge figu..
World News
Russia May Break Gazprom Monopoly to Stimulate LNG A Russian Security Council commission has recommended breaking down Gazprom's gas export monopoly in a bid to boost the competitiveness of Russia's gas, Russian daily Vedomosti reported after seeing the protocol from a recent meeting of the commiss..
Projects
Projects
An overview of the latest news concerning pipeline construction projects worldwide, as featured in our September 2017 issue.
TechNotes
New Tools Can Cut Station Drying Times in Half
Sugar Land, TX-based Pipeline Drying International, LLC, said it has developed new proprietary tools and techniques that, when used in combination with its patented Mobil Drying Units (MDU), can dry compressor stations, meter stations and some vessels faster than anyone else in the industry. The co..
What's New
What's New
An overview of the latest technology that can be used during pipeline construction projects
Sign up to Receive Our Newsletter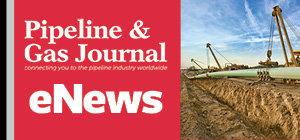 Pipeline Project Spotlight
Owner:
East African Crude Oil Pipeline Company
Project:
East African Crude Oil Pipeline (EACOP)
Type:
TotalEnergies in discussions with a Chinese company after Russian supplier Chelpipe was hit by sanctions.
Length:
902 miles (1,443 km)
Capacity:
200,000 b/d
Start:
2022
Completion:
2025