September 2019, Vol. 246, No. 9
Editor's Notebook
Boom or Bust in the Permian?
Things are heating up in Texas, and it's not just the weather. There are numerous complexities surrounding the most prolific shale region in North America that has everyone working in the basin uneasy. Though the Permian Basin, in Texas and New Mexico, has pushed the U.S. past Russia and Saudi Arabia as the world's top crude producer, some headwinds have appeared that have this basin fluxed.
Features
Africa Spotlight
Pipelines Emerging in Africa's Quest for Gas Power
Despite the many advances in the electrification of Africa, much of the continent has yet to be connected to the grid or have access to reliable and affordable power supplies. According to World Bank figures, Africa's electrification rate is just 42%.
East Africa's Leakage Incidents Points to Detection Needs
Barely one year after the commissioning of East and Central Africa's only refined oil transportation pipeline in Kenya, leakages have been reported, raising concerns about the ability of existing government agencies to monitor the safety of oil infrastructure at a time when similar projects have been unveiled across the region.
Global News
Government
Water Infrastructure Bill Introduced
The Senate is looking to pass bipartisan water infrastructure bills aimed mostly at providing funding for dams, irrigation and water conservation, and rejuvenation projects in the Western U.S. under the auspices of the Bureau of Reclamation, an Interior Department agency.
Projects
What's New
People in the News
Companies in the News
Cyberhawk
Drone-inspection technologies firm Cyberhawk signed a global teaming agreement with smart-combustion solutions firm John Zink Hamworthy Combustion (JZHC), an authority on flares, burners and emissions...
Noble Midstream Partners
Noble Midstream Par-tners announced a $200 million equity commitment from Global Infrastructure Partners Capital Solutions Fund to fund capital contributions to Dos Rios Crude Intermediate LLC, a newly formed subsidiary holding Noble Midstream's 30% equity interest in the EPIC Crude Pipeline. Of the..
ROSEN
ROSEN was awarded the Pipeline Industries Guild 2019 Prestigious Technology Award for its new Pipeline DNA and Pipe Grade Determination service. The service combines internal inspection technology for identifying pipe strength with expertise in specialist materials to produce data that provides a co..
Associations in the News
Southern Gas Association
The Southern Gas Association (SGA) named Suzanne Ogle as chief executive officer for the Dallas-based organization, succeeding William Cantrell, who retired effective Aug. 31. Although stepping down from his full-time leadership role, Cantrell will continue in a contract role as liaison for the Gas ..
Interstate Natural Gas Association of America (INGAA)
The Interstate Natural Gas Association of America (INGAA) named Michael Isper as its new director of Security, Reliability and Resilience. In his role, Isper will lead the cyber- and physical security efforts for the association, managing its ongoing collaboration efforts with member companies and t..
NACE International, SSPC Consider Merger
NACE International and The Society for Protective Coatings (SSPC) said they have continued discussions of a potential merger and will ask their members to vote on the matter within a year.
Sign up to Receive Our Newsletter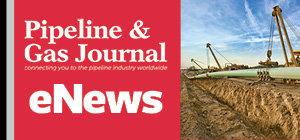 Pipeline Project Spotlight
Owner:
East African Crude Oil Pipeline Company
Project:
East African Crude Oil Pipeline (EACOP)
Type:
TotalEnergies in discussions with a Chinese company after Russian supplier Chelpipe was hit by sanctions.
Length:
902 miles (1,443 km)
Capacity:
200,000 b/d
Start:
2022
Completion:
2025