PPI's Fink Sees Expanding Role for Plastic Pipe
By Jeff Awalt, Executive Editor
David Fink was active for more than 20 years in the Plastics Pipe Institute (PPI) before becoming president of the Dallas-based organization in January 2020. So active, in fact, that he had to recuse himself from the search committee to apply for his new position when the opportunity arose.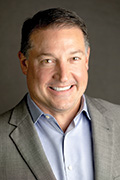 A chemical engineer and chemist by training, Fink has devoted his entire career to plastics, beginning with his work in polyethylene resin at Union Carbide (UC) Corporation and narrowing in focus to resins for pipe applications after UC's acquisition by Dow Chemical in 2001. He then spent 13 years at WL Plastics, one of the largest polyethylene pipe manufacturers in North America, where he managed commercial sales, engineering and business development, serving on the PPI board for several of those years.
Despite taking the reins of PPI at the outset of a global pandemic, Fink sees a bright future for the plastics pipe industry and a growing role for its products across an expanding range of underground applications.
P&GJ: PPI is celebrating an anniversary this year, which clearly shows it is serving a need for the industry. Who are your members, and what is the institute's mission?
David Fink: Yes, PPI was started in 1950, so this is our 70th anniversary year. Over those decades, it has continued to educate, promote and advance the acceptance and use of plastic pipe systems. Our membership includes pipe manufacturers, related equipment manufacturers and consultants and professionals with interests in plastic piping systems. The institute provides a forum for the industry to come together to collaborate and advance plastic pipe —everything from technical notes to guidelines to handbooks, and even the development and promotion of some standards like ASTM. We also work to influence some of the regulatory bodies about the use, features and benefits of plastic piping systems.
P&GJ: To what degree is PPI involved in establishing industry standards? 
Fink: One of the things we want to highlight is that it's important to have a good specification for any piping material, plastics included. Specifications would include listings for that piping manufacturer. All of our member companies are listed within our Hydrostatic Stress Board as dependent listings with their resin companies. In addition, you want to make sure that your specification has the most updated industry standards so that you're applying the best practices whenever it comes to your specification. That helps ensure a quality product and quality installation, even post-installation. The right specification will be in place. 
P&GJ: So, if the manufacturer is a member of PPI, that is a level of quality assurance?
Fink: That is correct. PPI members are not only listed within our Hydrostatic Stress Board, but they are also up to date on current regulations, current standards and current best practices. PPI's members collaborate to put forth guidelines, technical notes and handbooks that sometimes end up progressing to becoming a standard as an industry best practice.
P&GJ: You stepped in as president during a difficult period. How has it impacted your outlook and your goals to assume this role at the start of a global pandemic? 
Fink: Obviously, it's been a challenging year with COVID-19, for energy markets in particular. With the decline in travel, we've obviously seen reduced demand for energy products like oil and gas. That said, I believe the future is very bright for plastics, and my goal is to continue to advocate on behalf of our members' products and continue to grow the acceptance and use of those products. So, we're excited that PPI is a growing organization, and that plastics are being more widely recognized for their features and benefits.
P&GJ: What are the key benefits you focus on when discussing plastic piping options for the energy sector?
Fink: One of our main points, of course, is the benefit of replacing some of the existing, traditional materials that suffer from corrosion and leakage due to corrosion. We're a fully fused system that is corrosion-free and very cost-effective and durable. So, whenever we can participate within our pressure and temperature window, we are the preferred piping solution for not only oilfield applications, but several other applications across mining and water and sewer, etc. 
P&GJ: With that in mind, can you map out those areas where steel or cast-iron pipe has been used and where you view plastic as a viable option?
Fink: Sure. On the upstream gathering side, for example, plastic pipe is commonly used in the movement of water to prepare for the fracking of a well. It is also commonly used in the recovery of the processed water that comes up with the oil and gas from that well, depending on the temperature and pressure of the wellhead. It's commonly used for oilfield flow lines and very much so for gas gathering. So, with EPA recommendations on reducing fugitive methane, plastic pipe is commonly used when that methane is separated from the oil at the wellhead to collect a valuable natural resource that can be cleanly burned as a fuel. 
On the downstream side, from a consumer perspective, polyethylene pipe is the most commonly used material for bringing natural gas to your home or your commercial office building. Again, it's due to the noncorrosive, leak-free nature of plastic pipe, which is critical for the performance and safety of those natural gas systems.
P&GJ: Looking at those markets through the prism of your 70-year anniversary, has the range of plastic pipe applications expanded since 1950, or is it more about capturing a bigger share of those original markets?
Fink: Early on, one of the markets that was fast to adopt polyethylene piping systems was gas distribution. You had older, aging metal pipelines that were suffering from corrosion, which led to leaks. So, there was a driving force to move toward a piping system that is noncorrosive and fully secured by fusion. With experience and with product advancements in polyethylene, the materials became stronger over the years. 
As they became even more durable, they started finding their way into more of the upstream applications – again, replacing traditional metal products due to corrosion and as a lower-cost solution. Over the years, we've seen plastics continue to grow into higher pressures and higher temperatures.
P&GJ: Has this just been a matter of improving on existing materials, or have there been specific advancements to broaden plastic pipe applications?
Fink: It's been both. One of the newer materials is polyamide, which has been around for over a decade. It's starting to see more rapid adoption, because it's suitable for higher-pressure applications. For example, on the distribution side, polyethylene currently has a maximum allowable pressure of 125 psi, whereas polyamides can operate up to 250 psi. This further expands the capabilities and even the size range of pipe. 
Recently we've gotten regulations to adopt polyethylene pipe above 12 inches, moving all the way up to 24-inch pipe for natural gas distribution. This enables polyethylene and polyamides to start replacing more of those old cast-iron mains that are sorely in need of rehabilitation.  
P&GJ: Due to a number of factors, including legal and political opposition, a higher percentage of future projects for U.S. contractors might be for replacement pipe instead of new construction. Does that mean an increasing percentage of work involving plastic pipe?
Fink: That is correct. If you look at the gas distribution side, to start with, it's common for growth to occur with new housing starts. It's fairly obvious that when a house is built, you're going to have a gas line plumbed into it. But, just as importantly, you're going to see that with aging infrastructure, a need to replace some of those older materials, and plastics, provide a great solution. They're flexible and easy to use. They can be horizontally directionally drilled to prevent damage to front lawns or trees. They can be drilled under highways, versus an open trench, dig and replace.
In certain cases, plastics can also be slip-lined inside of old cast-iron mains. With an old, 8-inch cast-iron main, for example, you may be able to slip-line a 6-inch polyethylene or polyamide pipe through it as part of a very cost-effective, long-term solution. Plastics offer a smooth insert with very low friction. So, whether it's for natural gas or any other fluids flowing through them, plastic pipe has excellent properties.
P&GJ: Of course, smaller-diameter pipe generally translates into lower capacity. To what degree do you think that limits the opportunities for slip-lining as a solution for aging gas mains?
Fink: What we see is that the older infrastructure typically is operating at low pressures. Even if you're slightly reducing the inside diameter, the plastic materials are more than capable of handling either a slightly higher pressure or conveyance of the fluids in many instances. 
P&GJ: Looking ahead, do you expect to see the biggest growth opportunities for plastic pipe in higher-pressure applications, or is it a broader range than that? 
Fink: On the distribution side, we will continue to see growth of polyethylene from new housing starts and from rehabilitation of existing infrastructure. You'll also see some more polyamides in the higher-pressure applications for new and rehabilitation of infrastructure on the gathering side. 
One of the goals for PPI is to continue educating people on the benefits of polyethylene pipe as a low-cost, durable solution, whether it be transference of water or even oilfield flow lines. From a growth perspective, I do think that polyamides have a very bright future on the oil and gas gathering side. I also see growth opportunity there for some of our composites – a combination of plastics and other materials – which bring some unique features and long-term cost benefits over some traditional materials in that industry. 
P&GJ: The oil and gas industry has sometimes been slow to adopt new materials and methods. Has plastic pipe been a tough sell? 
Fink: Actually, the oil and gas gathering side has been faster to adopt cost-effective technology than the distribution side, because there are less regulatory oversights. When they're out in the field and have an opportunity to use a product that has good history, comes in at a lower cost and maybe solves some headaches with corrosion or leakage of historical materials, they're fairly fast to adopt it. The regulated side tends to have a longer process.
P&GJ: So, this gets back to the educational role of PPI in demonstrating the capabilities of plastic pipe as an alternative.
Fink: Correct. PPI and its members actually spend a lot of time educating and advocating for our members' materials, so as standards and regulations evolve, we create opportunities to expand and grow. As I mentioned earlier, we're promoting the use now of the 24-inch plastic materials for distribution applications where we're currently limited to 12-inch pipe. It's a great solution and, again, capable of being used to slip-line some of those old cast-iron mains. We see a bright future in that area. 
P&GJ: Is the growing focus on environmental issues working for or against plastic pipe as an option? 
Fink: On the whole, I believe the use of plastic pipe is a net positive from an environmental standpoint. First, they are a sustainable solution, because polyethylene and polyamides, and even composites typically are all noncorrosive. Also, because polyethylene and polyamide pipes are fused together, you have a joint that is as strong as the pipe and leak-free. Plastics are freeze-resistant and less vulnerable to ground movement than other materials. That's a big reason why plastic pipe has become popular for multiple applications in earthquake-prone areas like California, where polyethylene pipe might be the only thing still in service after an earthquake. 
The ability to coil a lot of our products, including the composite materials, is another benefit. You can get more footage of plastic materials per truckload and go longer distances without connections, which not only saves labor but also adds to the overall safety and environmental friendliness of the system. There are a number of ways in which the efficient installation, maintenance and transportation contribute to an overall lower carbon footprint with plastic pipe than some traditional materials.
P&GJ: Are there any other specific challenges facing the industry that PPI and its members are trying to address?
Fink: One ongoing concern is that there is some public misperception about plastics that we have to overcome. Plastics are in the news almost on a daily basis now, and a lot of this revolves around single-use, disposable, plastic-type applications. It's important for us to help differentiate ourselves from those uses and educate the public on the benefits of plastic piping systems as a long-term, sustainable solution.
Related Articles