December 2020, Vol. 247, No. 12
Editor's Notebook
Biden's Upside: It Could Have Been Worse
The prospect of a new U.S. president has caused a fair amount of hand-wringing and gnashing of teeth among those in midstream and other energy sectors, but there is reason to believe the fallout caused by a new administration will not be all that severe.
Features
Government
GAO Cites 'Generally Reliable' Transmission Pipeline Service
Transmission pipelines received something of an endorsement from the Government Accountability Office (GAO) in a study that found "Reports of serious interruptions of service that interstate transmission pipeline operators submitted to FERC from 2015 to 2019 show that unplanned service interruptions were generally infrequent and limited in scope."
Projects
Projects December 2020
Centurion Group Awarded Keystone XL Contract   Alberta-based Centurion Group announced that its Site Resource Group (SRG) won a contract for work on the U.S. portion of TC Energy's Keystone XL Pipeline.   Under the new contract, Centurion will maintain sections of Keyston..
Global News
Global News December 2020
First LNG Trains Delivered to Calcasieu Pass from Italy  Venture Global LNG moved a step closer to startup of its Calcasieu Pass LNG export facility with Baker Hughes' delivery of the first two liquefaction trains to the project site in Cameron Parish, La.   The two midsc..
What's New
What's New December 2020
ControlAir, Koike, Esco Tool, Vermeer, Dresser and Transneft have updates about products and services.
People in the News
People in the News December 2020
Rosen Group announced that industry expert Tom Dubern has joined its Aberdeen consultancy team to expand the support it provides to North Sea operators. Dubern joins Rosen following 11 years at Repsol Sinopec (previously Talisman UK) and has more than 25 years' experience i..
Companies in the News
Companies in the News December 2020
Pipe Spring announced that the United States Patent and Trademark Office has issued patent U.S. Patent No. 10830383 titled Augmentation of Mechanical Properties of High-Pressure Pipe, marking the second patent related to pipelines for inventor and Pipe Spring CEO Shawn Laughlin. The product improves..
Associations in the News
Associations in the News December 2020
The Interstate Natural Gas Association of America (INGAA) announced that Christopher "C.J." Osman has been appointed vice president of Government Affairs. He will lead the association's government and political affairs efforts to advance INGAA's key policy priorities.  He previously served as INGAA'..
Sign up to Receive Our Newsletter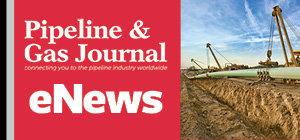 Pipeline Project Spotlight
Owner:
East African Crude Oil Pipeline Company
Project:
East African Crude Oil Pipeline (EACOP)
Type:
TotalEnergies in discussions with a Chinese company after Russian supplier Chelpipe was hit by sanctions.
Length:
902 miles (1,443 km)
Capacity:
200,000 b/d
Start:
2022
Completion:
2025