September 2020, Vol. 247, No. 9
Editor's Notebook
And Our Readers Say …
A recent survey of Pipeline & Gas Journal readers showed a clear majority of respondents believe the lingering effects of the coronavirus and recent developments concerning Dakota Access and Atlantic Coast pipelines have dealt a serious one-two punch to midstream businesses.
Features
Government
Pro-Pipeline Changes to NEPA Challenged
One lawsuit has already been filed contesting the Trump administration's July pro-pipeline changes to the National Environmental Policy Act (NEPA). The White House Council on Environmental Quality (CEQ) gave the Federal Energy Regulatory Commission (FERC) new authority to discount greenhouse gas emissions when approving applications for new interstate pipeline construction.
PHMSA Ratifies Industry Requestion MAOP
The Pipeline and Hazardous Materials Safety Administration (PHMSA) published a final rule in mid-July granting transmission pipelines the changes they requested after publication of a big final rule last October titled, "Safety of Gas Transmission Pipelines: MAOP Reconfirmation, Expansion of Assessment Requirements, and Other Related Amendments."
Executive Profile
Executive Profile: Engineering Veteran Ventures Out on His Own
Longtime pipeline engineering mainstay Marcelino Guedes Gomes has retired from Brazil oil giant Petrobras after more than 30 years, but he has no intention of leaving behind the work he loves. Guedes Gomes has co-founded PipelineBrazil, with the goal of improving pipelines in terms of safety and imaginative design ideas.
Projects
Projects
  Poland Fines Gazprom $57 Million Over Nord Stream 2 Poland's antimonopoly watchdog UOKiK (Office of Competition and Consumer Protection) fined Gazprom $57 million for lack of cooperation in its proceedings with regard to the Nord Stream 2 pipeline project.  Poland sees Nord Stream 2, which woul..
Mountain Valley
Equitrans Says Mountain Valley Remains on Schedule for Early 2021
Leidy South
Williams gained approval from the Federal Energy Regulatory Commission (FERC) to move forward with its Leidy South Project, which will create 582,400 Dth/d of additional pipeline capacity in the eastern United States.  The project will connect natural gas produced by Cabot Oil & Gas and Seneca Reso..
Global News
Global News
Pipeline Companies Deliver Largest Share of U.S. Gas Volumes A new government report on the U.S. natural gas industry shows that local distribution companies supply 90% of natural gas to U.S. residential and commercial sectors, but pipeline companies handle the biggest volumes through direct delive..
What's New
What's New
Honeywell Honeywell introduced new multigas monitoring solutions that work seamlessly together to help keep workers safe and confident while in hazardous areas. The Honeywell BW platform incorporates a slim profile, Bluetooth-enabled configuration with an infrared lower explosive limit sensor for t..
People in the News
People in the News
Al Walker, former chairman, president and CEO of Anadarko Petroleum, has been named to the board of directors at Enable Midstream Partners, a joint venture between CenterPoint and OGE Energy. Robert Gwin, a former president of Anadarko, also has been appointed to the board. Walker was CEO of Anadark..
Kevin Farris
Snelson Companies and PLH Group announced that Kevin Farris has joined as director of Business Development. Farris brings more than 25 years of industry experience, most recently as senior director of Gas Operations at Henkels and McCoy. He has also held management positions at Bilfinger Westcon, Sp..
Angela Kolar
Angela Kolar, Colonial Pipeline's vice president of Operations Services and chief risk officer, was appointed by U.S. Secretary of Transportation Elaine Chao to serve as an industry representative on the Technical Hazardous Liquid Pipeline Safety Standards Committee. Commonly referred to as the Liqu..
Companies in the News
Dominion Overhauls Leadership After Sale
Dominion Energy announced a reorganized executive leadership team after the cancellation of Atlantic Coast Pipeline and sale of its natural gas transmission and storage assets to an affiliate of Berkshire Hathaway.
Sign up to Receive Our Newsletter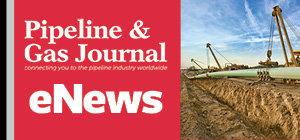 Pipeline Project Spotlight
Owner:
East African Crude Oil Pipeline Company
Project:
East African Crude Oil Pipeline (EACOP)
Type:
TotalEnergies in discussions with a Chinese company after Russian supplier Chelpipe was hit by sanctions.
Length:
902 miles (1,443 km)
Capacity:
200,000 b/d
Start:
2022
Completion:
2025