March 2021, Vol. 248, No. 3
Editor's Notebook
PennEast's Hail Mary Legal Challenge
In what is being viewed as hopeful news from the Marcellus Shale region, the U.S. Supreme Court agreed to hear an appeal by PennEast Pipeline Company to a ruling that prevents the company from seizing land in New Jersey through eminent domain.
Global News
Global News March 2021
A collection of brief articles provides a snapshot of global pipeline-related news from this month.
Projects
Projects March 2021
A collection of brief articles provides updates on current pipeline projects from around the world.
Features
Tech Notes
Two-Part Epoxy Deemed Best for Pipeline at Saltwater Channel
Polyguard Products entered the liquid corrosion coating industry in the past decade, where two-part epoxy is a typical choice for most pipeline field coating repairs due to its ease of application and exceptional performance characteristics. Polyguard developed NHT-5600 with those things in mind.
What's New
What's New March 2021
Logan Industries  Logan Industries offers marine scrubber repair and servicing at its new pressure vessel heat exchanger (PVHEX) facility in Hempstead, Texas. The facility, designed and engineered to e-produce scrubbers for the petrochemical, marine, ocean transport, chem..
People in the News
People in the News March 2021
Perrad DEKOTEC GmbH announced that Luc Perrad has been promoted to director of International Sales, replacing Michael Schad, who retired after 36 years with the company. Perrad has more than 20 years of global technical sales experience and extensive consul..
Companies in the News
Companies in the News March 2021
The Collins Companies, one of the largest privately held industrial distributors of pipe, valves and fittings (PVF) and engineered specialties serving the Northeast, announced it has acquired the assets of Niagara Controls in Buffalo, N.Y. and consolidated its management with Collins' Niagara Divisi..
Associations in the News
Associations in the News March 2021
Slater The board of directors of the Interstate Natural Gas Association of America (INGAA) has elected David Slater to serve as chairman of the organization for a one-year term. INGAA's board also elected Kim Watson, Kinder Morgan's president of North Regio..
Spotlight
Spotlight on Utilities
Routine calls for utility workers led to lives being saved due to their proper training and quick thinking.
Sign up to Receive Our Newsletter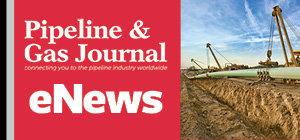 Pipeline Project Spotlight
Owner:
East African Crude Oil Pipeline Company
Project:
East African Crude Oil Pipeline (EACOP)
Type:
TotalEnergies in discussions with a Chinese company after Russian supplier Chelpipe was hit by sanctions.
Length:
902 miles (1,443 km)
Capacity:
200,000 b/d
Start:
2022
Completion:
2025