September 2022, Vol. 249, No. 9
Editor's Notebook
Manchin's 'Deal' Revisited
(P&GJ) — On the surface, Sen. Joe Manchin of West Virginia's surprise deal with the Democratic leadership of Congress, which would potentially clear the way for the 94% completed Mountain Valley Pipeline to finally be completed, appeared to be a major win for midstream.
Government
Newest EPA Methane Proposal Hits Pipelines Hard
(P&GJ) — The Senate bill on climate change, which includes a new fee on pipeline emissions of methane, puts a new emphasis on the Environmental Protection Agency's (EPA) two rulemakings on greenhouse gas emissions (GHG).
FERC Rate Change Posting Proposal Controversial
(P&GJ) — Responding to a June 2021 petition from interstate pipeline customers, the Federal Energy Regulatory Commission (FERC) has proposed upgraded website posting requirements when pipelines file for a Section 4 rate change.
Features
EIA Update
Expect 9 GOM Natural Gas, Oil Fields to Start Up Soon
(P&GJ) — The Energy Information Association (EIA) forecasts that new fields coming online in 2022 will account for 5% of natural gas production and 14% of crude oil production in the U.S. Federal Offshore Gulf of Mexico (GOM) by the end of 2023.
Big Decline in Global Oil Production Capacity Surplus Cited
(P&GJ) — Preliminary estimates from EIA's Global Surplus Crude Oil Production Capacity shows, as of May 2022, surplus capacity in non-OPEC (Organization of the Petroleum Exporting Countries) countries decreased by 80% compared with 2021.
Projects
TC Energy Expects Coastal Gas Line to Cost Nearly $9 Billion
NGL Energy Partners Places 225-Mile Ambassador Pipeline in Service, Howard Energy to Expand South Texas Natural Gas Transportation System, Enterprise to Expand Shin Oak Pipeline System in Permian, Magellan's Permian-Houston Crude Pipelines' Volumes Drop and more.
Tech Notes
Completing an 8,400-Foot Solid Rock Bore near Midland
(P&GJ) — To perform a pipeline bore as efficiently as possible beneath a busy West Texas highway, Hard Rock Directional Drilling decided to use a drill on each side of a planned intersection near the middle of the bore.
Sign up to Receive Our Newsletter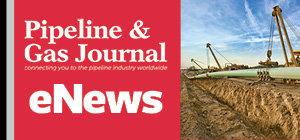 Pipeline Project Spotlight
Owner:
East African Crude Oil Pipeline Company
Project:
East African Crude Oil Pipeline (EACOP)
Type:
TotalEnergies in discussions with a Chinese company after Russian supplier Chelpipe was hit by sanctions.
Length:
902 miles (1,443 km)
Capacity:
200,000 b/d
Start:
2022
Completion:
2025