July 2023, Vol. 250, No. 7
Editor's Notebook
Editor's Notebook: Alaska's Long Road Back
(P&GJ) — With the Biden administration's recent approval of exports from a proposed LNG project and the rejection of a lawsuit challenging construction of related infrastructure, prospects may again be looking up again for the Final Frontier.
Government
New Leak Detection Rules for Pipelines Proposed
(P&GJ) — The federal pipeline safety agency has proposed major changes to its leak detection, based not on concerns about safety but rather in order to reduce methane emissions based on their contribution to climate change.
Features
Projects
Alaska LNG Project Clears Challenge, Advances 800-Mile Pipeline
The Biden administration backed the MVP for the second time, Mexico Pacific planned a $14 billion natural gas pipeline and liquefaction plant, and an Alaska LNG project advanced after a lawsuit from environmentalists was rejected, Comet Ridge and Jemena entered an agreement to develop a gas pipeline, while Caliche launched an open season for an expansion project.
Tech Notes
Strengthening the Bond with Reliable Structural Adhesives
(P&GJ) — Most industrial maintenance or repair procedures involve welding or the use of mechanical fasteners as these can be perceived as easy and quick. However, while these procedures might initially seem to correct the issue but may cause more harm than good.
ROSEN Conducts Research on Hydrogen Embrittlement
(P&GJ) — The ROSEN Group, together with National Gas (formerly National Grid Gas Transmission), has started researching ways to mitigate the potential for embrittlement of pipeline steel in hydrogen service.
Sign up to Receive Our Newsletter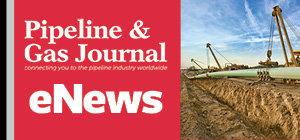 Pipeline Project Spotlight
Owner:
East African Crude Oil Pipeline Company
Project:
East African Crude Oil Pipeline (EACOP)
Type:
TotalEnergies in discussions with a Chinese company after Russian supplier Chelpipe was hit by sanctions.
Length:
902 miles (1,443 km)
Capacity:
200,000 b/d
Start:
2022
Completion:
2025