June 2023, Vol. 250, No. 6
Editor's Notebook
See You at the Movies … OK, Probably Not
(P&GJ) — The movie "How to Blow Up a Pipeline" tells a fictional story set in West Texas, where a group of people from different walks of life band together for various reasons and decide to blow up a pipeline. You already know the muddled thinking behind arriving at this decision – you've heard it before.
Features
Tech Notes
Tech Notes: Cold Bonding Used to Restore Pipeline
(P&GJ) — Evaluation of a facility, based in the north of Thailand, found that a huge pipeline carrying high-pressure water for injection into oil wells was suffering from thin wall defects. The pipeline in question was made out of 39-foot (12-meter) pipe lengths that had been welded together.
Projects
Nigeria's 384-Mile AKK Gas Pipeline Now 70% Complete
(P&GJ) — Nigeria has completed 70% of its 384-mile AKK gas pipeline; Kinder Morgan has launched a binding open season for the expansion of its SFPP pipeline; Sinopec has announced plans to build a 259-mile hydrogen pipeline in Mongolia; Peninsula Pipeline has finished its natural gas expansion project in Florida; and more in the latest issue of P&GJ's Project Update.
Guest Perspective
Beijing Holds All Cards in Russia's Eastern Energy Pivot
(P&GJ) — Russia is looking to build on its energy ties with China, a key buyer of its gas. But Beijing's position of power in the relationship may mean the sanctioned producer is in no rush to complete new projects, especially the much-discussed Power of Siberia 2 pipeline.
Sign up to Receive Our Newsletter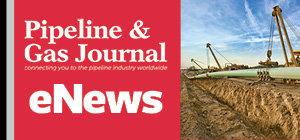 Pipeline Project Spotlight
Owner:
East African Crude Oil Pipeline Company
Project:
East African Crude Oil Pipeline (EACOP)
Type:
TotalEnergies in discussions with a Chinese company after Russian supplier Chelpipe was hit by sanctions.
Length:
902 miles (1,443 km)
Capacity:
200,000 b/d
Start:
2022
Completion:
2025