Latest Contender for Next Shale Boom
8/8/2015
The largest natural gas producer in Africa is overhauling its laws in order to halt the decline of production, which has stagnated for more than a decade.
Algeria is the continent's largest natural gas producer and the second largest supplier of gas to Europe (Russia is the largest supplier). It is also the third-largest oil producer on the continent after Nigeria and Angola.
Algeria is blessed with abundant fossil fuel reserves, and it is even estimated to hold the world's third-largest shale gas reserves, according to the Energy Information Administration. With over 700 Tcf of technically recoverable shale gas reserves, Algeria even rivals the U.S. in terms of the amount of gas locked away beneath its territory.
However, despite the large bounty, Algeria has overseen a long gradual decline in both oil and gas production. The EIA says that delays in new drilling and new infrastructure projects are the culprit. As a result, the Algerian government reformed its energy laws in order to attract international investment, which it believes will help reverse production declines.
The state-owned operator Sonatrach is still required by law to take majority ownership (at least a 51% stake) in new oil and gas projects. But Algeria has offered up stakes for auction, including 33 blocks that attracted interest from international companies. The government signed five contracts with Repsol, Shell, Statoil and Dragon Oil-Enel.
Sonatrach has a multi-year investment plan that will result in $64 billion spent in upstream activity over the next three years. The company is not only seeking to halt production declines, but it plans on increasing output from 1.4 million barrels of oil equivalent per day (MMboe/d) to 1.6 MMboe between 2014 and 2019.
As mentioned above, Algeria is a major supplier of gas to Europe. Much of that occurs through three transcontinental gas pipelines, two of which travel to Spain (one through Morocco and the other via the Mediterranean) and one that transits the Mediterranean to Italy. The largest, the Enrico Mattei Pipeline, carries 1.34 Tcf per year from Algeria through Tunisia and then on to Italy.
Related News
Related News
Sign up to Receive Our Newsletter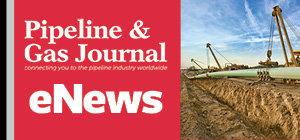 Pipeline Project Spotlight
Owner:
East African Crude Oil Pipeline Company
Project:
East African Crude Oil Pipeline (EACOP)
Type:
TotalEnergies in discussions with a Chinese company after Russian supplier Chelpipe was hit by sanctions.
Length:
902 miles (1,443 km)
Capacity:
200,000 b/d
Start:
2022
Completion:
2025