INGAA Foundation Announces Search for Executive Director
5/25/2018
The INGAA Foundation is seeking candidates through June 15 for the position of Executive Director, with service to begin in September.
P&GJ  is publishing the following announcement as a courtesy to the INGAA Foundation and our readers:
Executive Director
Job Announcement
May 2018
About the INGAA Foundation
Formed in 1990 by the Interstate Natural Gas Association of America, the INGAA Foundation facilitates the safe, efficient, reliable and environmentally responsible design, construction, operation and maintenance of the North American natural gas transmission system to advance the delivery of natural gas for the benefit of the consuming public, the economy and the environment.
Membership in the INGAA Foundation is open to natural gas pipelines and companies that provide goods and services to natural gas transmission pipelines. The Foundation now has more than 200 member companies, including natural gas pipeline companies, construction and engineering firms, pipe and compressor manufacturers, accounting firms, companies providing information technology services and other suppliers of goods and services to the pipeline industry.
The Foundation's primary activity is sponsoring research to promote natural gas use and safe, efficient pipeline construction and operation. Since 1990, the Foundation has completed over 150 studies, in addition to many projects and workshops that benefit the industry. These projects focus on key industry issues, such as environmental impacts of energy use, improved pipeline construction practices, pipeline safety procedures, new technologies and market opportunities for natural gas. The Foundation also sponsors briefings and conferences on topics of special interest to its members. These conferences promote information exchange and foster communication among pipelines, contractors, service providers and representatives from government agencies and academic institutions.
The Foundation is based in downtown Washington, DC, and has the equivalent of five full-time employees. For more information, please visit our website at http://www.ingaa.org/Foundation.aspx.
About the Position
The INGAA Foundation is seeking an executive director to begin service in September 2018. The Executive Director (ED) serves as the chief administrator of the Foundation and manages all aspects of the day-to-day work required to fulfill the Foundation's mission. The ED is accountable to the President of the Foundation and its Board of Directors on all matters affecting the Foundation. The ED serves as the "face" of the INGAA Foundation, opening Foundation meetings, making remarks, welcoming members, talking with potential members and seeking opportunities to facilitate formal and informal discussion and congeniality among members. The ED also represents the Foundation at industry events sponsored by others and at technical/research meetings.
This is a hands-on position that will require the successful applicant to relocate to the Washington, DC metropolitan area.
Summary of Responsibilities
Staff and Workplace:
• Manage logistics for Foundation meetings and programs
• Manage a professional/administrative staff of four
• Represent the INGAA Foundation at industry events, and technical and governmental meetings of industry-wide importance
Workshops and Studies:
• Lead, manage or provide support for technical and economic studies and workshops
Finance and Budget:
• Prepare, monitor and manage the Foundation's budget and dues
• Write and review contracts
• Maintain membership records
• Solicit or respond to requests from potential members Maintain all corporate records and files for the Foundation
Qualifications
• A bachelor's degree or higher, preferably in engineering or other related technical field
• Knowledge of or hands-on experience in natural gas transmission pipeline engineering, regulatory governance, and project development
• Experience managing and motivating professional and administrative staff
• Ability to advise and work collaboratively with multiple groups (e.g., steering committees) to achieve objectives
• Budget development and/or contract management experience is desirable
• Excellent oral and written communications skills, including the ability to write and edit documents for clarity, while maintaining accuracy
• Ability to work independently and manage multiple priorities, with a strong systems orientation and attention to detail
• Strong social and networking skills to enable enlistment and collaboration with key stakeholders
• Demonstrated success in performing a substantial portion of the position elements described above
Salary and Benefits
The INGAA Foundation offers a competitive salary range of $180,000-$200,000 per year plus annual target incentives, and a comprehensive benefits package including health, life, disability, and 401(k).
How to Apply
Applicants are requested to express interest by Friday, June 15, 2018. Expressions of interest may be sent to Alison French, INGAA Human Resources Manager, at afrench@INGAA.org. The INGAA Foundation is an equal opportunity employer.
Related News
Related News
Sign up to Receive Our Newsletter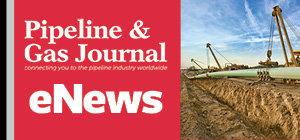 Pipeline Project Spotlight
Owner:
East African Crude Oil Pipeline Company
Project:
East African Crude Oil Pipeline (EACOP)
Type:
TotalEnergies in discussions with a Chinese company after Russian supplier Chelpipe was hit by sanctions.
Length:
902 miles (1,443 km)
Capacity:
200,000 b/d
Start:
2022
Completion:
2025