Midstream Companies' Improved Credit Raising LBO Risk
7/31/2019
(P&GJ) — North American midstream companies that are deleveraging in response to muted investor interest and higher capital costs are indirectly raising the risk of leveraged buyouts (LBOs), according to a new report from Moody's Investors Services.
The increased risk of LBOs, as well as consolidation, are due to the resulting improvement in credit quality, Moody's reported.
"Investors are averse to receiving distributions that will only be recycled later via equity offerings to fund growth projects," said Amol Joshi, a Moody's VP-senior credit officer.
"As midstream capital spending will likely decline through 2020, rising retained cash flow will increasingly fund capital expenditures," Joshi said, "but continued weak valuations risk attracting buyouts of such publicly traded midstream companies with improving credit quality."
Investor ambivalence eases the competition for possible infrastructure fund and private-equity suitors, Joshi says. While large midstream companies may be too big to be attractive buyout candidates, midsized or smaller companies could allow for successful LBOs, while still providing adequate returns.
Meanwhile, midstream companies will keep striving to self-fund the equity component of projects and grow EBITDA, to the benefit of their leverage metrics and distribution coverage, even as they'll still need to rely on the debt markets for the remaining funding. These firms are also making a greater effort to reign in capital spending and undertake higher-return projects.
Related News
Related News
Sign up to Receive Our Newsletter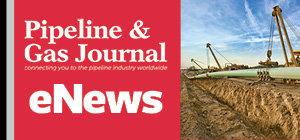 Pipeline Project Spotlight
Owner:
East African Crude Oil Pipeline Company
Project:
East African Crude Oil Pipeline (EACOP)
Type:
TotalEnergies in discussions with a Chinese company after Russian supplier Chelpipe was hit by sanctions.
Length:
902 miles (1,443 km)
Capacity:
200,000 b/d
Start:
2022
Completion:
2025