US Carbon Pipeline Faces Setback as Residents Refuse to Cede Land Rights
3/9/2023
(Reuters) — Navigator CO2 Ventures' proposed carbon pipeline project in the U.S. Midwest is struggling to secure a site to store millions of tons of greenhouse gas it hopes to collect from the region's ethanol plants, as residents refuse to give up land rights over fears the underground reservoirs could leak, according to documents reviewed by Reuters.
The issue could slow the project, one of three carbon pipelines planned in the Midwest that aims to help the ethanol industry reduce its climate footprint in line with federal government efforts to decarbonize the U.S. economy. The projects are a major test of the viability of carbon capture and storage as a climate solution.
RELATED: Navigator to Submit Expanded Proposal for 1,300-Mile Carbon Pipeline Project
In Illinois, Navigator has restarted the permit process for its Heartland Greenway pipeline in part due to difficulty getting land rights from residents living above the underground formations where it hopes to store up to 15 million metric tons annually of carbon dioxide, according to a Reuters review of the state regulatory docket and interviews with landowners along the proposed route.
Residents along the proposed route of the pipeline, as well as along the routes of two other carbon pipelines proposed by Iowa-based Summit Carbon Solutions and Denver-based Wolf Carbon Solutions, have expressed concern about damage to their farmland from installing the pipeline and safety risks if the pipeline were to leak.
Some living above Navigator's proposed sequestration site are also worried that carbon dioxide stored 5,800 feet underground could seep upward and contaminate their groundwater with carbonic acid, which is formed when carbon dioxide meets water.
Acidification of groundwater can kill plants or sub-soil animals and increase concentration of metals in drinking water, according to research by the Intergovernmental Panel on Climate Change. The Department of Energy in 2021 invested $4 million for research on the issue.
In January, Navigator withdrew its initial permit application with the Illinois Commerce Commission. This came two months after a senior ICC engineer recommended that the commission deny the company's application because it had not secured the necessary sequestration site, the commission's docket shows.
Navigator must secure land rights within an 11-month window from submitting the application, according to state law.
In a new permit application filed in late February, Navigator added 42 miles of pipeline leading to a second sequestration site - an underground geologic formation where it would store captured carbon dioxide - in a county neighboring where it had initially proposed to store carbon.
The company also pushed back its expected timeline for receiving federal, state, and county approvals by several months.
Navigator Vice President of Government and Public Affairs Elizabeth Burns-Thompson told Reuters in an interview on Monday that the company is on track to break ground on the pipeline on its original mid-2024 timeline and that it withdrew and resubmitted its application to accommodate adding the new pipeline branch.
Burns-Thompson also said Navigator is selecting sequestration sites specifically for their ability to permanently retain captured carbon dioxide.
The company did not share the number or percent of easements it has secured over its proposed sequestration sites.
Karen Brocklesby lives over the pore space Navigator initially proposed in Christian County. She was quick to reject the company's easement offer when they approached her last year and helped to form an Illinois community group that opposes the pipeline.
"It was easy to come together as a group that said no, we don't want this," she said.
'Guinea Pigs'
Elsewhere along its proposed route - which crosses Iowa, Nebraska, South Dakota, and Minnesota, in addition to Illinois - Navigator could seek eminent domain authority from regulators in cases where landowners refused to sign easements.
But Illinois law does not address the use of eminent domain above underground pore space, meaning Navigator may need to get every landowner living over the sequestration area to agree to sell off a portion of their land rights.
Christian County officials don't believe residents will be more receptive to Navigator's second permit attempt.
"There's nothing like this in the world," said county board chairman Bryan Sharp. "We don't want to be the guinea pigs."
The two other major carbon pipeline projects are working to secure underground carbon storage space.
Summit has negotiated easements with landowners for more than 85% of its sequestration site in North Dakota, the company told Reuters.
Wolf, which is partnered with grain processor Archer-Daniels-Midland Co., declined to provide updated information but said last year that it plans to store captured carbon at a site already owned by ADM.
Related News
Related News
Sign up to Receive Our Newsletter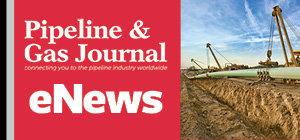 Pipeline Project Spotlight
Owner:
East African Crude Oil Pipeline Company
Project:
East African Crude Oil Pipeline (EACOP)
Type:
TotalEnergies in discussions with a Chinese company after Russian supplier Chelpipe was hit by sanctions.
Length:
902 miles (1,443 km)
Capacity:
200,000 b/d
Start:
2022
Completion:
2025