December 2012, Vol. 239 No. 12
Business Meetings & Events
December 2012 Ad Index
Advertisers from the print edition of <em>Pipeline & Gas Journal</em>, December 2012, Vol. 239, No. 12.
Editor's Notebook
Editor's Notebook: Historic Decision
This is a story about good people. People of diverse backgrounds from different parts of the country brought together by natural gas, the Marcellus Shale.
Features
From the Burner Tip
National Election Brings Time For Critical Energy Decisions
Decision-making in important national areas and politics mix like oil and water! Got rid of the politics for the time being – not really, but it is not as pertinent – so it is decision-making time for the government in the energy sector. Big decisions are waiting to be made in this very important part of the national agenda.
Government
Sen. Wydens Ascendency Causing Concern
The results of the presidential and congressional elections portend "more of the same" with regard to issues of interest to the gas transmission industry. Regulatory dockets already under way will continue along their current track.
In The News
Projects
Sign up to Receive Our Newsletter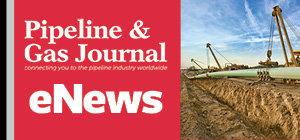 Pipeline Project Spotlight
Owner:
East African Crude Oil Pipeline Company
Project:
East African Crude Oil Pipeline (EACOP)
Type:
TotalEnergies in discussions with a Chinese company after Russian supplier Chelpipe was hit by sanctions.
Length:
902 miles (1,443 km)
Capacity:
200,000 b/d
Start:
2022
Completion:
2025