November 2013, Vol. 240 No. 11
Business Meetings & Events
November 2013 Ad Index
Advertisers from the print edition of <em>Pipeline & Gas Journal</em>, November 2013, Vol. 240, No. 11.
Editor's Notebook
Editor's Notebook: The Long Tail
Say, did you hear the one about the oil pipeline crew that was digging a trench when they spotted the dinosaur tail? No tall tale here. This is one of the stories that makes you appreciate being in the pipeline business. It proves that whether you're the operator or the contractor, you care about something more than just money. You care the about the world around you as well as those that came before us, even if it was 70 million years ago.
Features
From the Burner Tip
Government Approves Gas Exports, Adding To U.S. Natural Gas Demand
Liquefied natural gas, LNG, as a product is cold – minus 162 degrees centigrade. Commercially, it is hotter than a 4th of July firecracker! In mid-September the federal government issued a conditional license to a fourth company, Richmond, VA-based Dominion Resources, to sell up to 770 MMcf/d of natural gas for 20 years to any buyers abroad including those without Free Trade Agreements. The gas will go mainly to Asian markets.
Government
Binz Withdraws From Consideration For FERC Chairmanship
Withdrawal of the nominee for the FERC chairmanship reflects the intensity of the political wars between the Democrats and Republicans in Washington, the ham-handedness of the Obama administration and miscues by Ron Binz, a former Colorado Public Utility Commission chairman.
Paula Gant Appointed Deputy Assistant Secretary Of Energy For Oil, Natural Gas
Paula Gant, Ph.D., a former senior executive with the American Gas Association, was appointed Deputy Assistant Secretary of Energy for Oil and Natural Gas, Office of Fossil Energy, U.S. Department of Energy. Gant served as AGA's senior vice president for Policy and Planning. She joined the team of U.S. Secretary of Energy, Dr. Ernest Moniz in the Obama administration Sept. 9.
In The News
Projects
Q&A
Report Offers A Timely Perspective On Natural Gas
Recently the Center for Climate and Energy Solutions ("C2ES") released a comprehensive report entitled "Leveraging Natural Gas To Reduce Greenhouse Gas Emissions" that lays out in a thoughtful manner the promising future of natural gas. Its timeliness, coming as the shale revolution continues to build in the United States and which President Obama made a centerpiece of his Climate Action Plan (CAP), make this document essential reading.
TechNotes
Key Criteria For Selecting Low-Temperature Valves
Specifying and consulting engineers, engineering houses, original equipment manufacturers (OEMs) and end users depend on valves to control the flow of compressed air or other fluids, and on cylinders to control motion. But the cold truth is that low temperatures can cause problems for these fluid automation devices all along the line – from selection and delivery to operation and maintenance.
What's New
November 2013 New Products
New products from Detechtion Technologies, Coastal Flow, Mathey Dearman, Pipeline Hugger, Microfinish Valves and more.
Sign up to Receive Our Newsletter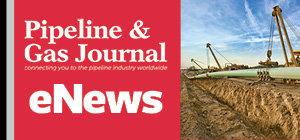 Pipeline Project Spotlight
Owner:
East African Crude Oil Pipeline Company
Project:
East African Crude Oil Pipeline (EACOP)
Type:
TotalEnergies in discussions with a Chinese company after Russian supplier Chelpipe was hit by sanctions.
Length:
902 miles (1,443 km)
Capacity:
200,000 b/d
Start:
2022
Completion:
2025