November 2015, Vol. 242, No. 11
Business Meetings & Events
November 2015 Ad Index
Advertisers from the print edition of Pipeline & Gas Journal, November 2015, Vol. 242, No. 11
Editor's Notebook
Ending Ban on Oil Exports Looms as Biggest Hurdle for Oil Industry
As President Obama smugly twiddles his thumbs and decides when he'll put Keystone out of its misery, sides are being taken, mostly along political lines, in the real debate that will decide the fate of the domestic oil industry: ending the outdated 1975 ban on crude oil exports. Obama, of course, sees no need to lift the ban, though he says he might reconsider IF the oil industry gives up its tax breaks. As one expected, Hillary Clinton, presumptive Democratic nominee for president, also opposes ending the ban.
Features
In The News
ExxonMobil Speaker Secured for Pipeline Opportunities Conference on Mar 22, 2016
Rob Gardner, manager of Economics & Energy Division Corporate Strategic Planning Department Exxon Mobil Corporation. Rob graduated from Louisiana State University in 1978 with a Bachelor of Science Degree in Chemical Engineering and began working for Mobil Oil in Louisiana in a series of technical and supervisory engineering positions in gas plants along the United States Gulf Coast. From 1987 to 1990, Rob moved to Mobil Natural Gas and began working in the new expanding natural gas marketing organization and took part in the growing deregulations of United States gas markets.
Projects
TechNotes
UTEC Completes Challenging Project in Cook Inlet
UTEC Survey was recently hired to provide a positioning solution for the installation of a monopod liquid natural gas platform and 30-km, 10-inch LNG pipeline for a major operation located in Alaska's Cook Inlet. Twenty-four field personnel were mobilized and engaged with Coda Octopus Products for use of their Echoscope technology to provide positioning and survey services for five vessels.
What's New
What's New: November 2015
What's new from GPL Odorizers, Thermo Fisher Scientific, Doosan, Technical Toolboxes, Cortech Corporation, Hoover Container Solutions and others.
Sign up to Receive Our Newsletter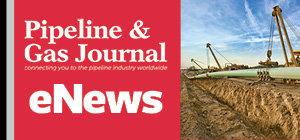 Pipeline Project Spotlight
Owner:
East African Crude Oil Pipeline Company
Project:
East African Crude Oil Pipeline (EACOP)
Type:
TotalEnergies in discussions with a Chinese company after Russian supplier Chelpipe was hit by sanctions.
Length:
902 miles (1,443 km)
Capacity:
200,000 b/d
Start:
2022
Completion:
2025