Memorial Day Gasoline Prices Lowest since 2009
The U.S. average retail price for gasoline was $2.30 per gallon (gal) on May 23, 47 cents per gallon (cents/gal) lower than at the same time last year, and the lowest average price just before Memorial Day weekend (the start of the summer driving season) since 2009. Lower gasoline prices reflect lower crude oil prices, with the spot price of North Sea Brent crude $16 per barrel (b) lower than at the same time last year, despite a price increase of more than $20/b since the last week of January.
Average retail gasoline prices for all regions of the country are below their year-ago values. The West Coast price is the highest at $2.66 per gallon, even though it is 83 cents/gal lower than at the same time last year, as the supply disruption that began in 2015 is expected to end once ExxonMobil's Torrance refinery in California resumes full operation. Gasoline prices on the West Coast are often higher than the U.S. average because the West Coast market is finely balanced between supply and demand and is relatively isolated from additional supply sources.
Average retail gasoline prices are lowest on the Gulf Coast, at $2.06/gal on May 23. Gulf Coast gasoline prices are often lower than the U.S average because the region is home to half of U.S. refining capacity but has a smaller share of demand, with a large share of its additional supply sent to the East Coast by pipeline.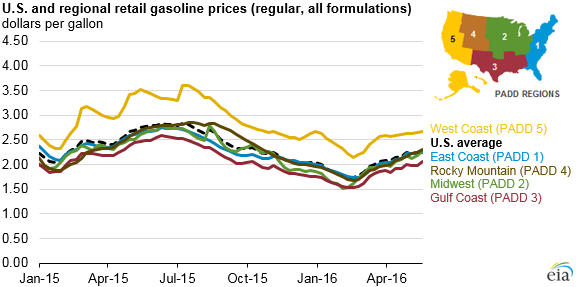 Source: U.S. Energy Information Administration, Gasoline and Diesel Fuel Update
EIA's May Short-Term Energy Outlook (STEO) forecasts the U.S. monthly gasoline price to average $2.21/gal during the 2016 summer driving season (April through September), 42 cents/gal lower than the average 2015 summer driving season gasoline price. EIA projects the U.S. regular gasoline retail price to average $2.08/gal in 2016 and $2.24/gal in 2017.
AAA, in association with IHS, Inc., expects more than 38 million people to travel this weekend, the second highest on record and the most Memorial Day travelers since 2005. Most Memorial Day weekend travel will be in vehicles, about 89% of the total. Compared to the previous Memorial Day weekend, travel by vehicle is expected to increase more than other forms of travel.
Related Articles