May 2016, Vol. 243, No. 5
Company & Association News
Company and Association News
Association News The American Petroleum Institute last month presented its 2015 Distinguished Safety and Environmental Award to Chevron Pipe Line Co. and Wolverine Pipe Line Co. This is API's highest safety and environmental performance award for pipeline operators and was presented to the compani..
Editor's Notebook
Understanding Both Sides of the Infrastructure Issue
A new book should be at the top of the reading list for everyone in the industry. It's entitled The Green and the Black, The Complete Story of the Shale Revolution, the Fight over Fracking, and the Future of Energy, by Gary Sernovitz, a managing director of an oil and gas private equity firm in New ..
Features
From the Burner Tip
Burner Tips: The Steps Before the Negotiation Room
What Energy Executives Should Be Asking Themselves Today In the first half of 2015, Chesapeake trailed only ExxonMobil as the top producer of natural gas. At the time, natural gas was down over half from the $6.15/MMBtu peak seen in the previous year, sliding daily. Highly hedged, $10 billion in d..
General
European Leak Detection Market Expected to Grow
Increased pipeline infrastructural investments coupled with high exploration and production activities in the oil and gas sector and high consumer demand for energy will propel growth in the European oil and gas pipeline leak detection market, according to a report issued by Research and Markets. T..
Steel City Becoming Energy Research Center
Pittsburgh is repackaging itself as an energy innovation city, with new research facilities ramping up at the University of Pittsburgh. The new Energy Innovation Center will be a place where private industry, universities and foundations come together to work on research in a space that hosts job tr..
In The News
Projects
TechNotes
CMA Actuators Enable Shale Gas Well Compliance with EPA Mandates
Special to Pipeline & Gas Journal Rotork CMA electric control valve actuators provide an efficient and reliable process control solution that enables remote shale gas installations to operate in compliance with new U.S. government environmental legislation related to venting and greenhouse gas emis..
Gold Shovel Standard™ Announces Foundational Members
Special to Pipeline & Gas Journal Gold Shovel Standard, a non-profit association created for the purpose of expanding the Gold Shovel Standard program, announced March 23 that PG&E, Xcel Energy, Kinder Morgan and Dominion Virginia Power have joined together as foundational members to further develo..
Web Exclusive
What's New
What's New in Products and Services
Inline Services Inline Services' Cutter Disc is designed for enhanced cleaning of pipelines where wax, scale or debris is present.  The angled shaped edges of the disc act as cutter blades to scrape off deposits throughout the pipeline.  The spaces in-between the cutter edges allow bypass of produc..
Sign up to Receive Our Newsletter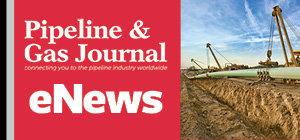 Pipeline Project Spotlight
Owner:
East African Crude Oil Pipeline Company
Project:
East African Crude Oil Pipeline (EACOP)
Type:
TotalEnergies in discussions with a Chinese company after Russian supplier Chelpipe was hit by sanctions.
Length:
902 miles (1,443 km)
Capacity:
200,000 b/d
Start:
2022
Completion:
2025