June 2019, Vol. 246, No. 6
Editor's Notebook
Editor's Notebook
To All the Women I've Worked with Before OK, a Julio Iglesias song lyric its not, but the women it represents is impressive. I recently received an email requesting abstracts for the Women's Global Leadership Conference in Energy (WGLC) that's being held in Houston this October. It is an inspirin..
Features
Projects
Global News
Government
First Pipeline Safety Bill Introduced
Two Massachusetts senators, one of them a Democratic presidential candidate, have introduced the first pipeline safety bill as Congress works to put together legislation reauthorizing the Pipeline Safety Act, which expires on Sept. 30.
Energy Department Offering Grants for Pipeline Projects
The Department of Energy will award $24 million in grants for the development of tools, methods and technologies to cost-effectively enhance the safety and efficiency of the nation's natural gas production, gathering, storage, and transmission infrastructure. Grants will be as much as $3 million but no lower than $1 million.
EPA Develops Water Reuse Action Plan
The Environmental Protection Agency (EPA) has begun an effort to develop a new program to support water reuse. The agency will be putting together an action plan based on input from industry groups and local governments with the intention of using funding provided by the Water Infrastructure Finance and Innovation Act (WIFIA) for whatever types of projects are eventually deemed eligible. Congress provided the EPA with $68 million in funding for WIFIA loans in fiscal 2019, which ends Sept. 30.
What's New
Tech Notes
Hot-Tapping, Plugging Enable Shutdown-Free Pipe Replacement
Pipeline solutions provider T.D. Williamson (TDW) paired its SmartPlug isolation system with hot-tapping and plugging (HT&P) services to enable a pipeline replacement at a Saudi Arabian industrial plant while the facility remained in service.
People in the News
Companies in the News
Associations in the News
Kervin
Michels Welding Superintendent Charles "Buddy" Kervin was named Man of the Year by United Association of Journeymen and Apprentices of the Plumbing and Pipe Fitting Industry of the United States and Canada. Kervin entered the pipeline industry in 1955 and has been a welder since 1962. He has been in..
Sign up to Receive Our Newsletter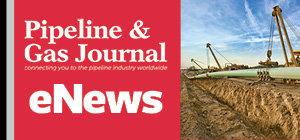 Pipeline Project Spotlight
Owner:
East African Crude Oil Pipeline Company
Project:
East African Crude Oil Pipeline (EACOP)
Type:
TotalEnergies in discussions with a Chinese company after Russian supplier Chelpipe was hit by sanctions.
Length:
902 miles (1,443 km)
Capacity:
200,000 b/d
Start:
2022
Completion:
2025