December 2011, Vol. 238 No. 12
Business Meetings & Events
December 2011 Ad Index
Advertisers from the print edition of <em>Pipeline & Gas Journal</em>, December 2011, Vol. 238 No. 12.
December 2011 Company News, Mergers & Acquisitions
ConocoPhillips has created a new independent downstream company named <strong>Phillips 66</strong> that will be headquartered in Houston. Phillips 66 will have leading businesses in refining, marketing, midstream and chemicals.
P&GJ December 2011 Association and Personnel News
The Alaska Oil and Gas Association (AOGA) board of directors named Kara Moriarty, AOGA Deputy Director, the new executive director. She succeeds Marilyn Crockett who is retiring from AOGA after more than 41 years of service.
Editor's Notebook
Paying The Dues
The other day I was reading one of the many beautifully written obituaries about Smokin' Joe Frazier, the heavyweight champion from Philadelphia who died Nov. 14 of liver cancer at the all-too-young age of 67.
Features
From the Burner Tip
Gas Midstream Growth Continues As Gas From Shale Plays Increase
Midstream goes mainstream in the natural gas business as midstream activities continue to take the spotlight. New gathering systems and intrastate pipelines along with additional gas treating, processing, and fractionating plants are announced frequently.
Government
EPA To Consider Shale Gas Wastewater Regulation
To no one's surprise, the Environmental Protection Agency announced in October that it will think about regulating shale gas wastewater. The Department of Energy's shale gas subcommittee - formed at the request of President Obama - provided the impetus to the EPA by noting the "fracking" chemicals contained in the water injected into shale rock formations and the contaminants that "flowback" to the surface both should be looked at more closely in case they are contaminating drinking water sources.
In The News
Projects
Sign up to Receive Our Newsletter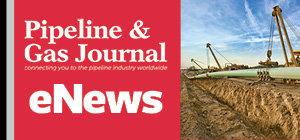 Pipeline Project Spotlight
Owner:
East African Crude Oil Pipeline Company
Project:
East African Crude Oil Pipeline (EACOP)
Type:
TotalEnergies in discussions with a Chinese company after Russian supplier Chelpipe was hit by sanctions.
Length:
902 miles (1,443 km)
Capacity:
200,000 b/d
Start:
2022
Completion:
2025