December 2013, Vol. 240 No. 12
Business Meetings & Events
December 2013 Ad Index
Advertisers from the print edition of <em>Pipeline & Gas Journal</em>, December 2013, Vol. 240 No. 12.
Editor's Notebook
Editor's Notebook: CNG With A View
GRAND CANYON – It's just a couple days after the INGAA Foundation meeting in Scottsdale and Janet and I are extending our Arizona excursion with a few days in Grand Canyon sandwiched between stops in Sedona. The conference has filled my head with happy thoughts of natural gas, the environmentally friendly fuel now rewriting the history of energy in this country.
Features
Government
FERC Non-Committal on House Permitting Reform Act: Senate Unlikely to Pass Without Changes
FERC commissioners still apparently have problems with the pipeline siting improvement bill the House passed on November 21 by a vote of 252-165. The Natural Gas Pipeline Permitting Reform Act (H.R. 1900) sponsored by Rep. Mike Pompeo (R-KS) would impose timelines on federal resource agencies when they analyze construction projects which have already finished their environmental review by the FERC.
Major New Pipeline Safety Program Being Readied By PHMSA
The federal pipeline safety agency is opening a new front in its efforts to improve gas and oil pipeline safety. The integrity verification process (IVP), previewed this summer by the Pipeline and Hazardous Materials Safety Administration (PHMSA), would be an "add-on" to the existing Integrity Management (IM) program, which obligates pipelines to test segments in "high-consequence areas (HCAs)." There are 18,000 miles of pipeline in HCAs.
In The News
Energy Reform Amendment Passes Mexico's Congress
President Enrique Peña Nieto's promised energy reform amendment to Mexico's constitution passed Congress Dec. 12, paving the way for state governments to ratify the amendment and new rules for the country's energy production and transportation to be written in the 120 days following.
Projects
TechNotes
Harsco Industrial Air-X-Changers Ships First Of Four Giant Coolers
Harsco Industrial Air-X-Changers has shipped the largest coolers in the Tulsa-based company's 60-year history. Weighing in at 180,000 pounds, the Model 204-3Z coolers are 75 feet long, 25.9 feet wide and 14 feet tall. In late September, Harsco AXC shipped the first of four units to be delivered by the end of the year for a customer that will use the coolers in offshore natural gas operations in the Gulf of Mexico. A second unit left the Harsco AXC plant in mid-October.
What's New
December 2013 New Products
New products from Twisted Pair, Weiler, Rhino Markers, Andy J. Egan Company, Inline Services, Pentair, ClockSpring and more.
What's New In Pigging
Pigging technology and services from Russell NDE, ROSEN, Greene's Energy Group, Enduro, Inline Services, Clock Spring, NDT Systems & Services, Team Industrial Services and GeoCorr.
Sign up to Receive Our Newsletter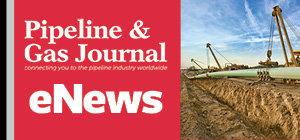 Pipeline Project Spotlight
Owner:
East African Crude Oil Pipeline Company
Project:
East African Crude Oil Pipeline (EACOP)
Type:
TotalEnergies in discussions with a Chinese company after Russian supplier Chelpipe was hit by sanctions.
Length:
902 miles (1,443 km)
Capacity:
200,000 b/d
Start:
2022
Completion:
2025