January 2013, Vol. 240 No. 1
Business Meetings & Events
Editor's Notebook
Editor's Notebook: A Crazy World
Pot is in and Twinkies are out. Such a crazy world, I am thinking on this brisk Dec. 5 afternoon as the mini-bus carries six of us media types through the hinterlands of western Pennsylvania to our next stop during this state-sponsored tour of the Marcellus Shale.
Features
From the Burner Tip
Private Sector Environmentalism Showing Bigger Impact In Energy Projects
Natural resource industries are well versed in the regulatory and rule-making impact of government agencies. Not as well understood and sometimes not even considered in decision making are the many private sector environmental concerned organizations like the Sierra Club, Natural Resources Defense Council, or Greenpeace.
Government
DOE LNG Report Opens Door To Liquefaction Approvals
The Department of Energy published a report from NERA Economic Consulting which concludes unlimited exports of U.S. LNG will help the U.S. economy, and the greater the exports, the greater the public good.
In The News
Projects
Sign up to Receive Our Newsletter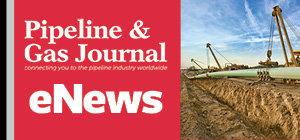 Pipeline Project Spotlight
Owner:
East African Crude Oil Pipeline Company
Project:
East African Crude Oil Pipeline (EACOP)
Type:
TotalEnergies in discussions with a Chinese company after Russian supplier Chelpipe was hit by sanctions.
Length:
902 miles (1,443 km)
Capacity:
200,000 b/d
Start:
2022
Completion:
2025