December 2018, Vol. 245, No. 12
Features
Editor's Notebook
Colorado Voters Reject Proposition 112
By Joe Hollier Colorado's oil and gas industry breathed a sigh of relief as voters rejected a proposal to require oil and gas wells be at least 2,500 feet from homes, schools, waterways and other areas deemed vulnerable. Had Proposition 112 passed it would have made the half-mile buffer state law e..
Global News
Global News
Natural Gas Utilities Testing Demand Response Programs Demand Response (DR) programs have become a fairly common method of reducing electricity demand during summer peak periods, and now the approach is being tried by natural gas utilities – most recently due to concerns about limited pipeline capa..
Projects
Projects
Valley Crossing Pipeline to Mexico Gains FERC Extension The Federal Energy Regulatory Commission (FERC) awarded Enbridge subsidiary Valley Crossing Pipeline six additional months to connect its natural gas pipeline to its counterpart in Mexico, moving the deadline to April 23. The 168-mile pipelin..
Government
Government
Change of Class Location Draws Opposition Citizen organizations and state regulators are opposing interstate pipeline efforts to convince federal regulators to provide an alternative to the class location system, which requires pipelines to take steps when there is population growth around a pipeli..
Business
What's New
Sign up to Receive Our Newsletter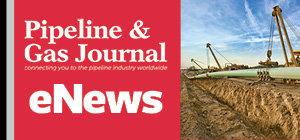 Pipeline Project Spotlight
Owner:
East African Crude Oil Pipeline Company
Project:
East African Crude Oil Pipeline (EACOP)
Type:
TotalEnergies in discussions with a Chinese company after Russian supplier Chelpipe was hit by sanctions.
Length:
902 miles (1,443 km)
Capacity:
200,000 b/d
Start:
2022
Completion:
2025