November 2020, Vol. 247, No. 11
Editor's Notebook
Doubling Down on $5 Natural Gas
While there hasn't been a lot of good news on the midstream front lately, projected $5 natural gas by the fall of 2021 is a hopeful sign. And who can argue with the Farmer's Almanac weather forecast?
Features
Government
Interstates Worry About Inspecting Farm Taps
Will transmission pipelines now have to worry about complying with distribution pipeline regulations in addition to their own? That is the concern with one of the key provisions in a proposed rule from the Pipeline and Hazardous Materials Safety Administration (PHMSA).
Projects
Projects
Jemena Reveals Plans to Extend Eastern Gas Pipeline  Newcastle and the Central Coast may soon be integrated further into Australia's East Coast gas grid with leading energy infrastructure company, Jemena, today revealing plans to extend its 495-mile (797-km) Eastern Gas Pipeline (EGP) from Horsley ..
Global News
Global News
OPEC Predicts Oil Demand to Plateau in Late 2030s World oil demand will plateau in the late 2030s and could by then have begun to decline, OPEC said, in a major shift for the producer group that reflects the lasting impact of the coronavirus crisis on the economy and consumer habits.  ..
What's New
IDEC
IDEC Corporation announced an expansion to the MicroSmart FC6A All-in-One PLC family, with three new 12V DC CPUs. End-users, designers and OEMs now have more options for automating battery-backed equipment and heavy-equipment vehicles. Many applications req..
People in the News
Companies in the News
Companies
Artera Services Acquires Otis Eastern (photo: Otis Eastern/Artera) Artera Services, a natural gas and electric infrastructure services company, has completed the previously announced acquisition of Otis Eastern Service.  Founded in 1936 and acquired by c..
Associations in the News
Associations
The Lafayette Chapter of the American Association of Drilling Engineers officers for 2020-2021 include Jude Boudreaux, president, Offshore Energy Services, Inc.; Bryan Leger, first vice president, Premium Oilfield Services; Jordan Woods, second vice president, Delta Energy Consultants; Sharon Moore,..
Sign up to Receive Our Newsletter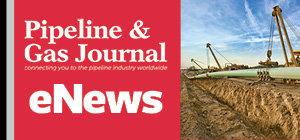 Pipeline Project Spotlight
Owner:
East African Crude Oil Pipeline Company
Project:
East African Crude Oil Pipeline (EACOP)
Type:
TotalEnergies in discussions with a Chinese company after Russian supplier Chelpipe was hit by sanctions.
Length:
902 miles (1,443 km)
Capacity:
200,000 b/d
Start:
2022
Completion:
2025