April 2021, Vol. 248, No. 4
Editor's Notebook
Great Freeze Revisited
I suppose if I just wanted to write a column that assigned the "villain" label to someone involved in the Great Texas Blackout of 2021, there would be plenty of worthy candidates from which to choose.
Global News
Global News April 2021
A collection of brief articles provides a snapshot of global pipeline-related news from this month.
Projects
Projects April 2021
A collection of brief articles provides updates on current pipeline projects from around the world.
New Pipeline Gas Supply Heading to West Australia
Western Gas, the owner and operator of the Equus Gas Project, signed a memorandum of understanding with APA Group assess supplying the gas at competitive prices to western Australia domestic gas customers and East Coast markets through a new pipeline, a news release states. Both companies are based in Australia.
Features
What's New
What's New April 2021
Updates from Sensirion, Ralston, Cortec, Weldcote, AIO and BPS are included in this month's What's New.
People in the News
People in the News April 2021
People  Stempien AVANGRID announced the appointment of Catherine S. Stempien to the role of president & CEO of Avangrid Networks, its largest business unit, which serves 3.3 million customers with electric and gas service through eight companies in Maine,..
Companies in the News
Companies in the News April 2021
Companies  Chevron U.S.A. and Brightmark expanded their joint venture to produce and market renewable natural gas (RNG) from dairy biomethane projects across the United States.   Subsidiaries of their RNG joint venture currently own RNG projects in Western New York, Western Michigan, Central Flor..
Associations in the News
Associations in the News April 2021
Associations  The National Utility Contractors Association's (NUCA) Board of Directors formally inducted Lauren Atwell as the group's annual meeting in Naples, Florida.  Also elected to the leadership team at the Feb. 6 NUCA Annual Meeting was Ryan Kinning of Pender, Neb., as chairman-elect; Tom ..
Executive Commentary
Canada's Energy Industry Will Shape the Future
It has been another tough couple of weeks for the pipeline industry. Keystone XL lost its Presidential Permit. A critical infrastructure project that would have delivered immense benefits on both sides of the border, cancelled as an act of backward-looking political symbolism by the President of the United States on his very first day in office.
Sign up to Receive Our Newsletter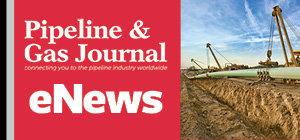 Pipeline Project Spotlight
Owner:
East African Crude Oil Pipeline Company
Project:
East African Crude Oil Pipeline (EACOP)
Type:
TotalEnergies in discussions with a Chinese company after Russian supplier Chelpipe was hit by sanctions.
Length:
902 miles (1,443 km)
Capacity:
200,000 b/d
Start:
2022
Completion:
2025