November 2021, Vol. 248, No. 11
Editor's Notebook
CEPA Exiting After Nearly 3 Decades
The decision by the Board of Directors to shut down its offices as of Dec. 31 comes as a tough blow for midstream companies, though all things considered the move was not especially surprising.
Global News
Global News November 2021
In this month's global headlines, US Supreme Court Refuses Stay Request for Spire Missouri Pipeline, Summit Midstream Settles Criminal Pollution Charges for $36 Million and more.
Projects
Projects November 2021
Canada Formally Invokes 1977 Pipeline Treaty with US Over Line 5 Dispute, Gazprom Begins Shipping Gas on TurkStream and more is included in November's project news.
Features
Business
People in the News November 2021
Garcia Rosa García was appointed as new chairwoman of Madrid-based liquids distribution and storage logistics provider Exolum, succeeding José Luis López de Silanes, who served as chairman for 16 years and will now become honorary chairman. She brings three..
Sign up to Receive Our Newsletter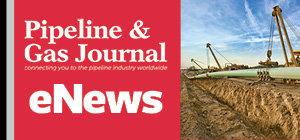 Pipeline Project Spotlight
Owner:
Gaz-System, Energinet
Project:
Baltic Pipe
Type:
Baltic Pipe will transport Norwegian natural gas from the Norwegian North Sea via Denmark to Poland.
Length:
560 miles (900 km)
Capacity:
110 Bcf per annum
Start:
Q2 2020
Completion:
Q4 2022