October 2021, Vol. 248, No. 10
Editor's Notebook
Line 3's Long, Strange Trip Nears Terminus?
The Minnesota Supreme Court's decision to let stand a regulatory ruling that allows Calgary, Alberta-based Enbridge's nearly completed Line 3 project to move forward comes while Canadian midstream companies are overdue for some good news.
Global News
Global News October 2021
EIA Expects U.S. Natural Gas Consumption to Decline Through 2022, Brazil Seeks Natural Gas Pipeline from Argentina's Vaca Muerta and more.
Government
Top Federal Appeals Court Raps FERC's Knuckles
FERC received new legal leverage from a top federal appeals court to do a more thorough job calculating greenhouse gas emissions and effects on minority communities for liquefied natural gas and pipeline construction applications.
FERC Blesses MVP's Use of Trenchless Technology
The Mountain Valley Pipeline cleared its latest federal regulatory hurdle when FERC said in an environmental assessment that the trenchless technology MVP plans to use when crossing water bodies met with FERC's approval.
Projects
Projects October 2021
Enbridge Bolsters GOM Capacity with Purchase of Moda Midstream, Ukraine Says Russian Gas Transit to Europe Decreasing and more.
Features
Cybersecurity
API's Cybersecurity Standard Provides Approach to Protection
Working together with industry and government, the American Petroleum Institute has taken a major step to enhance protection of critical pipeline infrastructure by publishing the 3rd edition of Standard 1164, Pipeline Control Systems Cybersecurity.
What's New
What's New October 2021
Vermeer   Vermeer upgraded its truck-mounted vacuum excavator line with the new VXT300 truck vac, which is outfitted with an 8-cubic-yard (6.1-cubic-meter) spoil tank, 6-inch (15.2-cm) dig tube and the ability to carry up to 800 gallons (3,028 L) of water s..
Business
People in the News October 2021
McAnally ONE Gas Inc. announced Robert S. McAnnally has been named president and CEO and joined the company's board of directors, succeeding Pierce H. Norton II, who is now president and CEO of ONEOK Inc. McAnnally has been with ONE Gas for six years, initi..
Companies in the News October 2021
Kinder Morgan closed on its $310 million acquisition of Kinetrex Energy, which includes two small-scale, domestic LNG production and fueling facilities, a 50% interest in a landfill-based renewable natural gas (RNG) facility in Indiana and signed commercial agreements for three additional RNG facili..
Associations in the News October 2021
George Hamilton has joined the National Utility Contractors Association to lead its membership and chapter development programs. Hamilton previously led the membership department for the International Association of Business Communicators and served as marketing and membership manager at CFRE Intern..
Sign up to Receive Our Newsletter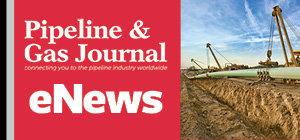 Pipeline Project Spotlight
Owner:
East African Crude Oil Pipeline Company
Project:
East African Crude Oil Pipeline (EACOP)
Type:
TotalEnergies in discussions with a Chinese company after Russian supplier Chelpipe was hit by sanctions.
Length:
902 miles (1,443 km)
Capacity:
200,000 b/d
Start:
2022
Completion:
2025