May 2022, Vol. 249, No. 5
Editor's Notebook
Another Pothole in the Road
With its new policy declaring that greenhouse gas and "environmental justice" must be taken into account during the approval process for natural gas pipelines, the Federal Energy Regulatory Commission (FERC) has outdone itself in further muddying the road forward for future projects.
Projects
Projects May 2022
$21 Million Investment Secured to Complete Mountain Valley Pipeline, Italy's Draghi Discussed Idea of Italy–Spain Pipeline with Counterpart, Texas Pipeline Company Max Energy Purchases Southcross Gas Pipeline and more.
Features
Business
People in the News May 2022
People  Superior Pipeline Company announced three key promotions on its senior management team.  Bill Ward was promoted to president of the Tulsa, Oklahoma-based company from senior vice president of Commercial Activities. Ed Alexander was promoted to chief financial officer and controller from sen..
Associations in the News May 2022
Associations  The Gas Exporting Countries Forum (GECF) announced the recipients of its inaugural GECF Awards.  The 'Long-Term Commitment to Natural Gas Award' was conferred on HE Saad Sherida Al-Kaabi, the minister of State for Energy Affairs of Qatar and president and CEO of QatarEnergy. The 'GECF..
Sign up to Receive Our Newsletter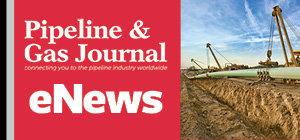 Pipeline Project Spotlight
Owner:
Gaz-System, Energinet
Project:
Baltic Pipe
Type:
Baltic Pipe will transport Norwegian natural gas from the Norwegian North Sea via Denmark to Poland.
Length:
560 miles (900 km)
Capacity:
110 Bcf per annum
Start:
Q2 2020
Completion:
Q4 2022