Chevron, Exxon Seek State Backing for Australia Carbon Capture, Hydrogen Projects
5/17/2023
(Reuters) — Chevron Corp. and Exxon Mobil Corp., the two largest U.S. fossil fuel companies, are seeking Australia's backing for carbon capture and storage (CCS) and hydrogen projects as they look to increase investment in a bid to slash intensity of carbon emissions.
Scaling up CCS projects and generation of hydrogen from renewable energy are crucial for Australia, the world's largest exporter of LNG, to wean its economy off carbon, even as it seeks to meet LNG demand from top buyers such as Japan and South Korea.
"Support doesn't just need to be dollars but it's that political support," David Fallon, general manager of energy transition at Chevron Australia, said at the Australian Petroleum Production and Exploration Association (APPEA) conference.
Australia aims to cut carbon emissions by 43% by 2030 and reach net zero by 2050. It is home to the world's largest commercial CCS project, Gorgon, run by Chevron, which has struggled to hit capacity.
Fallon pointed to how Chevron was prioritising CCS investment in the United States because of favourable policy measures such as tax credits.
"That marginal dollar that you're looking to spend at the end of your budget, that will make a difference," Fallon said.
Australia announced its own plans to scale up its offshore CCS capability on Tuesday, following big incentives by the United States, and Britain's $24 billion commitment in such projects over the next two decades.
A CCS process captures carbon dioxide (CO2) generated from industrial activity, transports it, and then stores it underground.
"Australia is actually in a very advantageous position, as long as I think we have the right policies that will enable that," Irtiza H Sayyed, president of ExxonMobil's low carbon solutions in Asia Pacific, also said at the conference.
"For long-term investments to make sense, we need to have predictable policy," Sayyed said.
Executives from Inpex Corp., Japan's biggest oil and natural gas explorer, and Australia's top independent gas producer Woodside Energy Group also pushed for policy certainty.
"Ministers, senior ministers, and governments seem to be quite skeptical of the technology for whatever reason. The feeling is that they're not so supportive of it," said Bill Townsend, senior vice president at Inpex.
Separately, Australia announced in its annual budget last week it would invest A$2 billion to scale up development of its green hydrogen industry.
"We should be thinking about the cheapest form that we can get. It stands to reason that would be blue hydrogen," Townsend said. Blue hydrogen is produced from natural gas with carbon emissions removed via CCS.
"If you want to stimulate that and get hydrogen into the mix, it has to be economically attractive."
Related News
Related News
Sign up to Receive Our Newsletter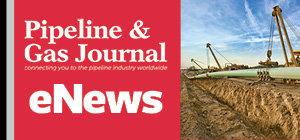 Pipeline Project Spotlight
Owner:
East African Crude Oil Pipeline Company
Project:
East African Crude Oil Pipeline (EACOP)
Type:
TotalEnergies in discussions with a Chinese company after Russian supplier Chelpipe was hit by sanctions.
Length:
902 miles (1,443 km)
Capacity:
200,000 b/d
Start:
2022
Completion:
2025