March 2012, Vol. 239 No. 3
Business Meetings & Events
March 2012 Ad Index
Advertisers from the print edition of <em>Pipeline & Gas Journal</em>, March 2012, Vol. 239 No. 3.
Editor's Notebook
Invisible Infrastructure
Life is so filled with ironies, isn't it? Every major election year it seems that gasoline prices skyrocket and every politician has the solution. Of course they make little sense since they prefer to pander instead of considering that oil is a commodity and is treated as such by the marketplace. Anything that may affect supply moves the marketplace. That's how it is in a free market economy.
Features
Government
House Backs Oil And Gas Bills
Two House committees passed a jumbo infrastructure bill in February and a third was likely to follow suit, meaning the American Energy and Infrastructure Jobs Act will probably pass the House quickly. How quickly the Senate will follow suit is unclear.
In The News
Energy Executives Bullish On 2012 Outlook
Executives at U.S. middle market energy companies are bullish on their outlook for 2012. This optimism among executives is fueling growth, as 85% expect to seek financing this year, according to Mike Lorusso, Group Head of CIT Energy (cit.com/energy). These are some of the findings detailed in CIT's latest research study, "2012 U.S. Energy Sector Outlook" (<a href="http://www.cit.com/about-cit/thought-leadership/cit-outlook-series/energy-outlook-2012/index.htm">www.cit.com/energyoutlook</a>).
Shale Gas Estimates Decline Sharply In EIA Report
The Energy Information Administration (EIA) has released a report showing drastically lower estimates of natural gas resources in the U.S. The agency estimated there are 482 Tcf of shale gas in the U.S., a decrease of more than 40%. The report also estimated the Marcellus region of New York, Ohio, Pennsylvania and West Virginia contained only 141 Tcf of gas. This is a decrease of 66% from earlier estimates of 410 Tcf.
Projects
Q&A
Latin American Approach to Oil And Gas Lacks Structure
Though unconventional plays are remaking the face of the North American oil and gas industry, we dare not overlook our neighbors to the south. Although activity in Latin America varies from country to country because of political situations, economics and resources, oil and gas development is the essential ingredient needed to improve the standard of living of their citizens – both in terms of the comforts they provide and the revenues they earn.
Sign up to Receive Our Newsletter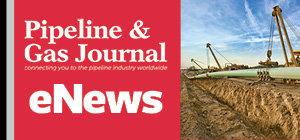 Pipeline Project Spotlight
Owner:
East African Crude Oil Pipeline Company
Project:
East African Crude Oil Pipeline (EACOP)
Type:
TotalEnergies in discussions with a Chinese company after Russian supplier Chelpipe was hit by sanctions.
Length:
902 miles (1,443 km)
Capacity:
200,000 b/d
Start:
2022
Completion:
2025