August 2013, Vol. 240 No. 8
Business Meetings & Events
Editor's Notebook
Editor's Notebook: Eighth Wonder
This month I return to that driving passion in my life: baseball. Before I made the fateful decision to move to Houston in 1984, one factor had to be satisfied. That city not only had to have a major metropolitan newspaper, but it also had to have a Major League baseball team.
Features
Government
Pipeline Approval Reform Bill Hits Headwinds
The pipeline approval "speed up" bill hit some speed bumps on July 9. At hearings in a House subcommittee, the unofficial "pipeline" commissioner at the Federal Energy Regulatory Commission (FERC) noted some potential unintended consequences that might occur if the Natural Gas Pipeline Permitting Reform Act (H.R. 1900) as initially written becomes law. The bill was proposed by Rep. Mike Pompeo (R-KS). It essentially requires FERC to approve or deny a pipeline application 12 months after a certificate has been submitted.
In The News
Projects
TechNotes
Dry Fit Assembly At WeldFit Guarantees Alignment
WeldFit Energy Group completed a valve manifold assembly for a tank farm expansion at a terminal near Edmonton, Alberta. The valve matrix is comprised of eleven 30-inch main line spools with various sizes of extruded inbound and outbound headers.
Evolution Of Hydrostatic Test Systems
Demand for hydrostatic testing of both new and existing pipelines is at an all-time high. At the same time, pipeline construction companies are squeezed to maintain profitability, doing more work with fewer employees or at least with fewer hours per job.
MECI picked to provide gas metering system
MECI has been chosen by Samsung Heavy Industries to supply a fiscal export gas-metering system that can withstand high operating pressure and high carbon content over the course of a 40-year field life.
Sign up to Receive Our Newsletter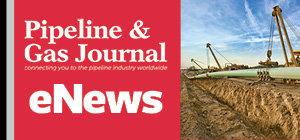 Pipeline Project Spotlight
Owner:
East African Crude Oil Pipeline Company
Project:
East African Crude Oil Pipeline (EACOP)
Type:
TotalEnergies in discussions with a Chinese company after Russian supplier Chelpipe was hit by sanctions.
Length:
902 miles (1,443 km)
Capacity:
200,000 b/d
Start:
2022
Completion:
2025