June 2013, Vol. 240, No. 6
Business Meetings & Events
June 2013 Ad Index
Advertisers from the print edition of <em>Pipeline & Gas Journal</em>, June 2013, Vol. 240, No. 6.
Solomon Associates Opens Office in Houston
Solomon Associates has announced the opening of its office in Houston, which the company says will help it better serve its clients as well as assist in the recruitment of top industry professionals.
Editor's Notebook
Editor's Notebook: Thoreau And The Keystone XL
The other day I received this friendly e-mail from a PR person for <em>The Nation</em>, a newsletter that is the antithesis of <em>Human Events</em>. I can live without either. She asked if I would like to review an energy-related article.
Features
Government
FERC Gives New England Electric Market Gas Scheduling Latitude
The Federal Energy Regulatory Commission (FERC) took a first, tentative step to give New England utilities more flexibility in arranging for natural gas supplies. But the Order issued on April 24 left at least one pipeline executive wondering whether the Commission actually accomplished anything of value.
In The News
Projects
TechNotes
CASE Models Offer Better Fuel Economy, Productivity
CASE Construction Equipment last month introduced the new Tier 4 interim CX130C and CX160C excavators to its C Series product line, offering customers fuel economy increases of up to 8% and 5%, respectively, vs. previous B Series models. This results in increased productivity, along with lower overall owning and operating costs facilitated through easier maintenance.
Innovative Pipeline Cleaning Through Leading with Chemistry
Online and offline pipeline chemical cleaning process inefficiencies can be a major cause of cost increases and pipeline downtime in maintenance projects. M-I SWACO Pipeline Services (M-I PLS) in Houston have developed advanced evaluation methods and patented formulated chemical products that significantly improve the effectiveness of any pipeline cleaning requirements.
What's New
Sign up to Receive Our Newsletter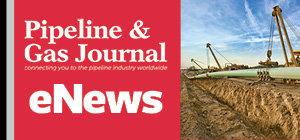 Pipeline Project Spotlight
Owner:
East African Crude Oil Pipeline Company
Project:
East African Crude Oil Pipeline (EACOP)
Type:
TotalEnergies in discussions with a Chinese company after Russian supplier Chelpipe was hit by sanctions.
Length:
902 miles (1,443 km)
Capacity:
200,000 b/d
Start:
2022
Completion:
2025