October 2013, Vol. 240 No. 10
Business Meetings & Events
October 2013 Ad Index
Advertisers from the print edition of <em>Pipeline & Gas Journal</em>, October 2013, Vol. 240 No. 10.
Editor's Notebook
Editor's Notebook: Still Waiting
President Obama sure is a cagey fellow; after watching him closely for the past six years I don't think there's much doubt about that. So, that leads me to the big question: what exactly is he planning to do with that long-overdue decision on the Keystone XL Pipeline?
Features
In The News
Projects
TechNotes
Corrosion: Eating Oil Industry From Inside Out
In the oil and gas industry, corrosion accounts for more than 25% of failures, according to a recent NACE International report. Corroded pipe repair or replacement costs the industry more than $7 billion per year, based on estimates from the National Association of Corrosion Engineers.
What's New
Sign up to Receive Our Newsletter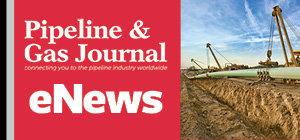 Pipeline Project Spotlight
Owner:
East African Crude Oil Pipeline Company
Project:
East African Crude Oil Pipeline (EACOP)
Type:
TotalEnergies in discussions with a Chinese company after Russian supplier Chelpipe was hit by sanctions.
Length:
902 miles (1,443 km)
Capacity:
200,000 b/d
Start:
2022
Completion:
2025