January 2015, Vol. 242, No. 1
Business Meetings & Events
Initial Caspian Conference Attracts 500 Attendees
The inaugural SPE Caspian Technical Conference and Exhibition (CTCE) – the first technical oil and gas conference ever to take place in the region – attracted more than 500 industry professionals at the Korme Exhibition Center in Astana, Kazakhstan. The three-day event, hosted last month by Shell in partnership with the Kazakh Ministry of Energy and KAZENERGY Association, was the first one on this scale that SPE had organized in the region.
January 2015 Ad Index
Advertisers from the print edition of <em>Pipeline & Gas Journal</em>, January 2015, Vol. 242, No. 1.
WHC Announces New Equity Partnership
The owners of WHC Inc. have decided to transition ownership to its senior management and their equity partner, Alvarez & Marsal Capital Partners (AMCP). This corporate recapitalization will provide the foundation for sustainable growth in a growing market.
Editor's Notebook
Editor's Notebook: The Lessons Of History
You have to appreciate history, for it tells no lies and whether we like it or not, it tends to repeat itself. Last month I recalled how the Saudis ramped up production 30 years ago with the backing of the Reagan administration in order to wreck the Soviet economy though it also did long-term damage to the U.S. oil industry. With crude prices in the $55 range (as of Dec. 18), motorists are delighted but nerves are on edge in Texas and other regions where the economies depend on oil and gas production.
Features
From the Burner Tip
Keystone Pipeline Ends First Year Of Canada To Texas Delivery; Expansion on Hold
TransCanada's Keystone Pipeline has just completed a year's service of bringing Canadian tar sand syn crude from Alberta to U.S. Gulf Coast facilities for refining and marketing. This was the third phase of the project. Bringing crude from Cushing, OK to Texas began in January 2013 and still has a lateral line to be completed that will bring crude oil from Nederland, TX to Houston-area refineries. A terminal will be completed in mid-2015 for the Houston refining.
Government
Gas, Electric Sectors Split On Key Scheduling Issue
Gas producers and pipelines seem in general agreement about a Federal Energy Regulatory Commission (FERC) proposal to improve coordination between gas suppliers and electric transmission providers. But regional electric buyers such as the ISOs and RTOs are a little disappointed.
In The News
Projects
TechNotes
Sign up to Receive Our Newsletter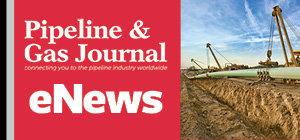 Pipeline Project Spotlight
Owner:
East African Crude Oil Pipeline Company
Project:
East African Crude Oil Pipeline (EACOP)
Type:
TotalEnergies in discussions with a Chinese company after Russian supplier Chelpipe was hit by sanctions.
Length:
902 miles (1,443 km)
Capacity:
200,000 b/d
Start:
2022
Completion:
2025