October 2017, Vol. 244, No. 10
Company & Association News
Business News
PHMSA Drue Pearce was named deputy administrator for the federal Department of Transportation's Pipeline and Hazardous Materials Safety Administration (PHMSA). Pearce was a state senator for Alaska and federal coordinator for the Alaskan Natural Gas Transportation Projects. She was director of gove..
Editor's Notebook
Hurricane Harvey Rocks Houston
"The worst thing about this is that you know people are going to die." Mid-afternoon on Aug. 25 and I was talking to our managing editor Mike Reed as we prepared to go home. Hurricane Harvey was approaching Houston. Everyone's nerves were on edge. We knew we were going to get hit and hit hard, tho..
Features
Projects
Projects
An in-depth look at worldwide pipeline construction projects, as featured in our October 2017 issue.
Government
Government
An overview of the latest news related to pipeline regulations, as featured in our October 2017 issue.
In The News
In the News
BP Moves Forward with IPO for U.S. Pipeline Assets BP announced on Sept. 11 that BP Midstream Partners LP, a wholly owned, indirect subsidiary, filed a registration statement with the U.S. Securities and Exchange Commission for a proposed initial public offering. The announcement comes after BP sai..
World News
Natural Gas to Become Primary Energy Source by 2035 Oil and gas will be crucial components of the world's energy future, according to DNV GL's forecast of the energy transition. While renewable energy will grow its share of the energy mix, oil and gas will account for 44% of world energy supply in ..
Tribes Argue Dakota Access Created Own Problems
Tribes Argue Dakota Access Created Own Problems Native American tribes maintained in last-minute court filings that the Dakota Access oil pipeline developer has overstated the potential adverse effects of a shutdown. Standing Rock Sioux attorney Jan Hasselman also argued that Energy Transfer Partne..
TechNotes
Ditch Witch, Utilicor Technologies Partner Up
Public works managers across the nation have welcomed the use of keyhole coring: a less-costly, safer and less-disruptive approach to underground roadway and sidewalk utility repairs than traditional, large excavation techniques. Last month Ditch Witch®, a Charles Machine Works Company, announced it..
Midstream Company Solves Flow Measurement Issues
When Mike Heckl was a director of operations for Crestwood Midstream, the company established itself in the West Virginia Appalachian Basin by purchasing an area of development from a major upstream firm with a large acreage in the Ohio and West Virginia Marcellus/Utica Shale fields. They had alread..
Verifying Worker Training Onsite to Boost Safety
Pipeline and energy companies are safety-conscious for good reason. Fewer accidents mean fewer delays, higher worker morale, lower insurance costs and avoidance of OSHA fines. Ensuring that workers do only jobs they're trained for is one of the most critical steps in a safety program. An untrained ..
What's New
What's New
An overview of new technological developments that can be used on pipeline construction projects, as featured in our October 2017 issue.
Sign up to Receive Our Newsletter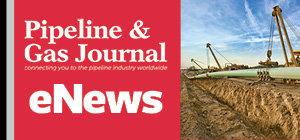 Pipeline Project Spotlight
Owner:
East African Crude Oil Pipeline Company
Project:
East African Crude Oil Pipeline (EACOP)
Type:
TotalEnergies in discussions with a Chinese company after Russian supplier Chelpipe was hit by sanctions.
Length:
902 miles (1,443 km)
Capacity:
200,000 b/d
Start:
2022
Completion:
2025